Related Topics
With technological advances and changing market trends, there has been a growing movement towards silicon carbide (SiC) and system-on-a-chip (SoC) designs.
Rigid-flex PCBs use both rigid and flexible substrates, enabling the electronic engineer to connect multiple layers of flexible and printed subcircuits.
It is difficult to protect each key signal from all noise intrusions, but this must be done to design an effective PCB assembly.
Other Resources
August 28, 2017
The San Francisco based startup, comma.ai, is exposing what is going on inside the vehicle you drive everyday and making self-driving cars available to the masses. This week's Red Hot PCB features a universal car interface named "Panda".
Panda's software is 100% open source and can give you a wide range of data by plugging into your car's OBDII port. These boards are equipped with both USB and Wi-Fi capabilities, and supports 3 CAN (Controller Area Network), 2 LIN (Local Interconnect Network), and 1 GMLAN (General Motor Local Area Network). Outside of the product, panda is compatible with several of comma.ai's software tools: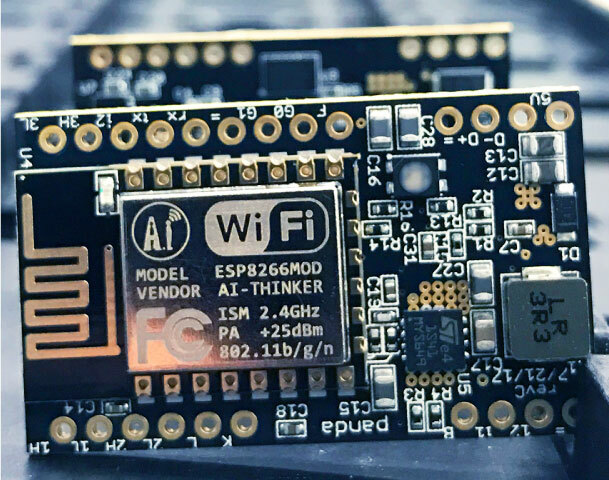 Chffr app – cloud-recording dashboard camera, when shared with panda allows you to record all the sensors from your car, including RPM, MPG, etc.

Open pilot – open-source autonomous driving software, will be able to use Panda to take control of a compatible vehicle's gas, brakes, and steering.

Comma Cabana – CAN analysis tool that takes the data Chffr records from Panda and interprets it for you.
As a coincidence, comma.ai was recently featured on our podcast. Listen to the episode for more information!
Thank you to Eddie Samuels for your contribution to this weeks post!
About MacroFab
MacroFab offers comprehensive manufacturing solutions, from your smallest prototyping orders to your largest production needs. Our factory network locations are strategically located across North America, ensuring that we have the flexibility to provide capacity when and where you need it most.
Experience the future of EMS manufacturing with our state-of-the-art technology platform and cutting-edge digital supply chain solutions. At MacroFab, we ensure that your electronics are produced faster, more efficiently, and with fewer logistic problems than ever before.
Take advantage of AI-enabled sourcing opportunities and employ expert teams who are connected through a user-friendly technology platform. Discover how streamlined electronics manufacturing can benefit your business by contacting us today.