Related Topics
With technological advances and changing market trends, there has been a growing movement towards silicon carbide (SiC) and system-on-a-chip (SoC) designs.
Rigid-flex PCBs use both rigid and flexible substrates, enabling the electronic engineer to connect multiple layers of flexible and printed subcircuits.
It is difficult to protect each key signal from all noise intrusions, but this must be done to design an effective PCB assembly.
Other Resources
August 1, 2017
Ever thought about building your own brain? This weeks Red Hot PCB features Neurobytes designed byNeurotinkers. NeuroBytes are open source electronic neuron simulators that are designed to help students understand the basics of neuroscience! This PCB is known as the Touch Sensor, which is part of a biological neural network that allows you to physically recreate and interact with different elements of the nervous system. Similar to the real brain, these circuits can be triggered by touch, light, sound, and temperature to produce motor output. Each modular board includes five dendrites (inputs) along with two axon terminal (outputs) that allow easy connection with other identical boards. The NeuroBytes are powered by an Atmel ATtiny44A microcontroller running various types of open-source firmware and are flashed with a neuron program that manages to keep track of internal membrane potential. NeuroBytes have evolved since 2014 with approximately 1400 individual elements built to date, along with numerous accessories that help constructed networks interface with the real world.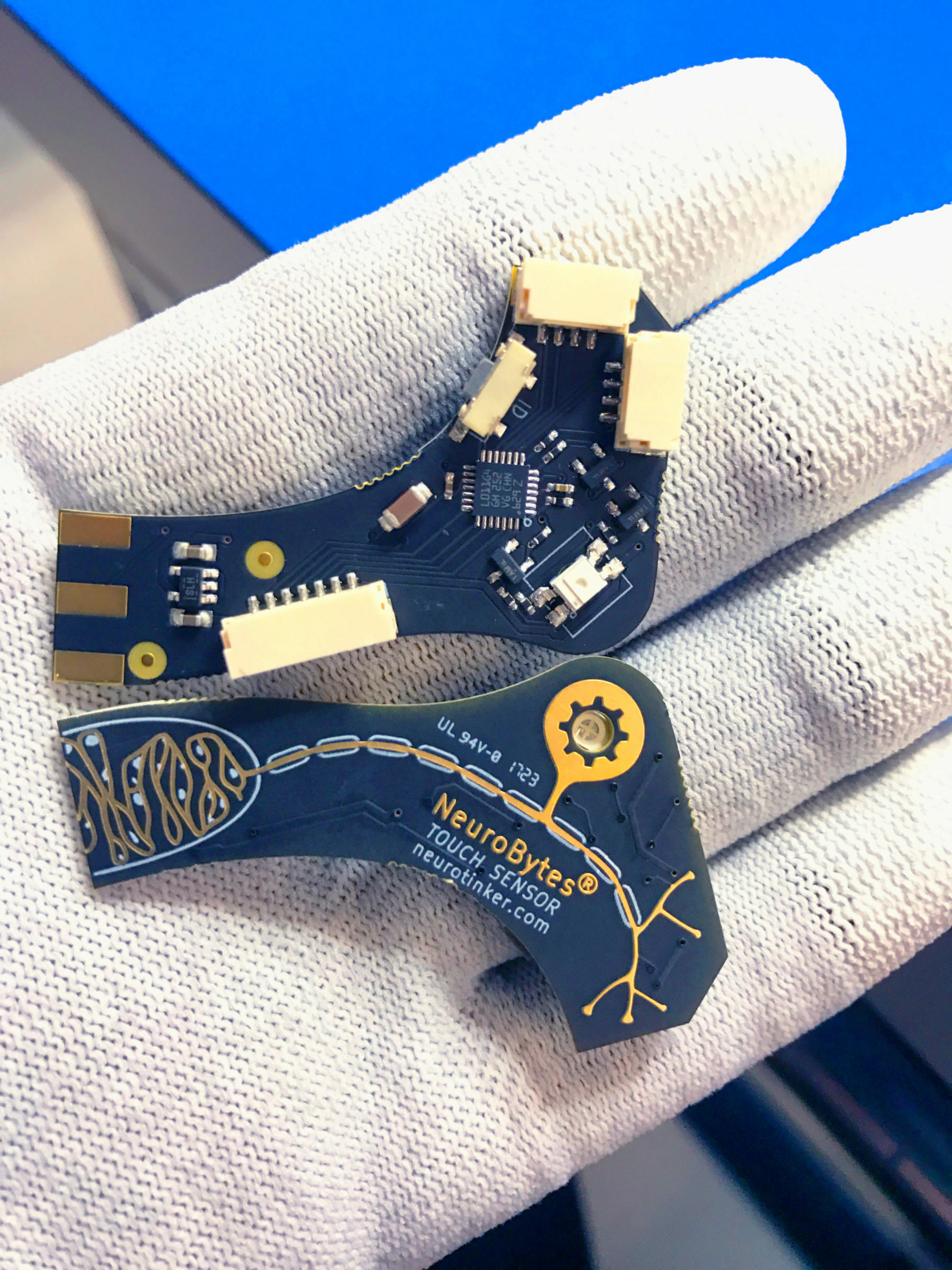 Thank you to Zach Fredin, Co-Founder & Lead Engineer for his contribution to this weeks post.
Did you find this post helpful or interesting? Let us know in the comments below!
About MacroFab
MacroFab offers comprehensive manufacturing solutions, from your smallest prototyping orders to your largest production needs. Our factory network locations are strategically located across North America, ensuring that we have the flexibility to provide capacity when and where you need it most.
Experience the future of EMS manufacturing with our state-of-the-art technology platform and cutting-edge digital supply chain solutions. At MacroFab, we ensure that your electronics are produced faster, more efficiently, and with fewer logistic problems than ever before.
Take advantage of AI-enabled sourcing opportunities and employ expert teams who are connected through a user-friendly technology platform. Discover how streamlined electronics manufacturing can benefit your business by contacting us today.