Related Topics
If you're a supply chain professional, engineer or business owner this webinar will show you how you can access an agile digital platform that brings the
Experience a new checkout process that gives you fewer steps to purchase; an updated address book and even greater transparency.
MacroFab experienced a record-breaking year in 2018, marked by aggressive growth in bookings and revenue.
Other Resources
October 17, 2017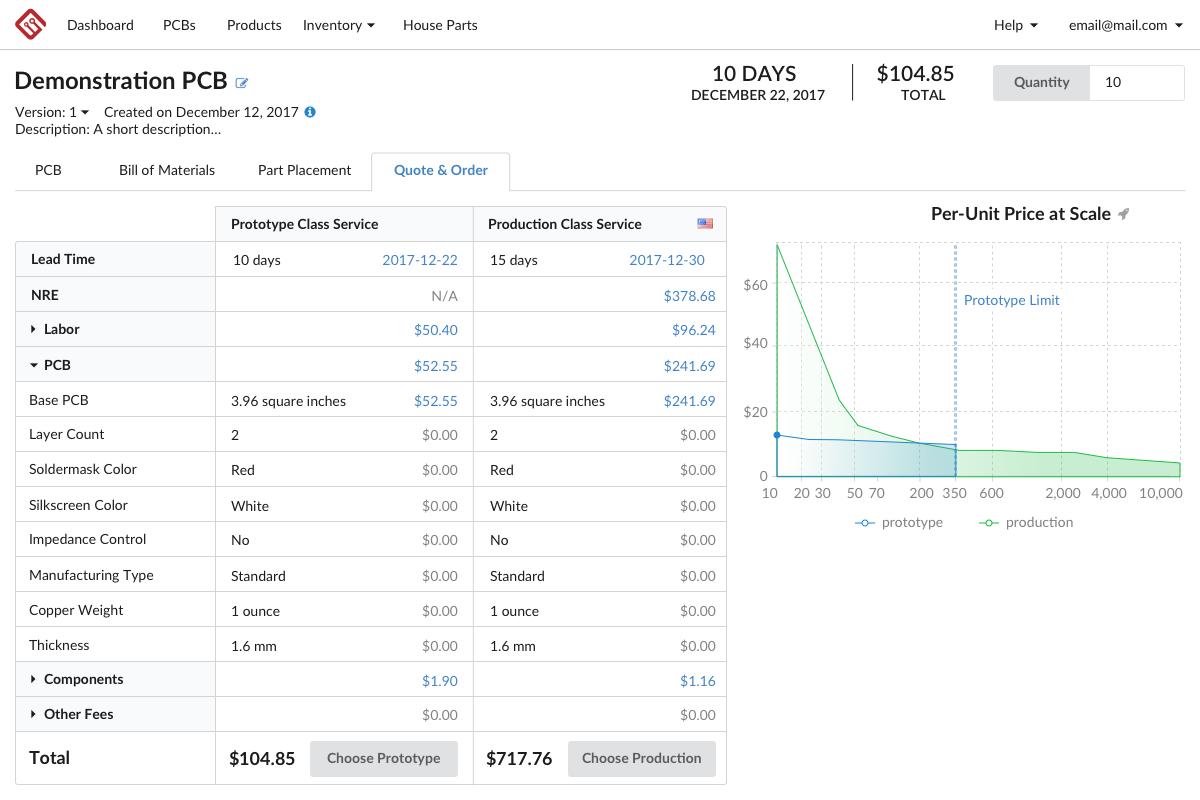 We are excited to announce several initiatives that will expand services for our customers while providing globally competitive pricing. We have expanded manufacturing services to a facility in Mexico that enables us to assemblehigh volume production ordersfor more customers. With this comes a roll out in our instant quoting interface that includeshigh volume pricing.
We are excited to announce that we offer10-day turnaround service, and lastly, we have developeda sharper, more intuitive interfacethat is cleaner but provides more information to customers. These rollouts will make it easier and faster to execute on your project, whether youre producing thousands of units or need quick turn prototypes.
Production Manufacturing
We have expanded our production manufacturing capacity, and have our first international factory in Tijuana, Mexico. These services enable our customers to scale production while using the same, streamlined experience our platform provides.
For high-volume orders, you can now access instant international pricing through our platforms easy PCBA quoting interface. Once you upload your files and confirm your BOM, youll navigate to the quoting screen. From here, you can see price breaks per unit, and update quantities to view lead times and where your boards will be assembled (USA or Mexico). Read more here.
10-Day Turnaround
We have launched a 10-day turnaround for qualifying orders. For orders that meet these requirements, a notification will appear on the quoting screen and the shorter lead-time will be displayed. Heres a list of what types of orders can be produced using our 10-day turn time:
Have no more than 50 units
Have fewer than 2,000 surface-mount placements (SMT)
Have fewer than 20 unique SMT line items
No through-hole placements
Applies to our standard manufacturing services.
Easier Quoting, Including High Volume Pricing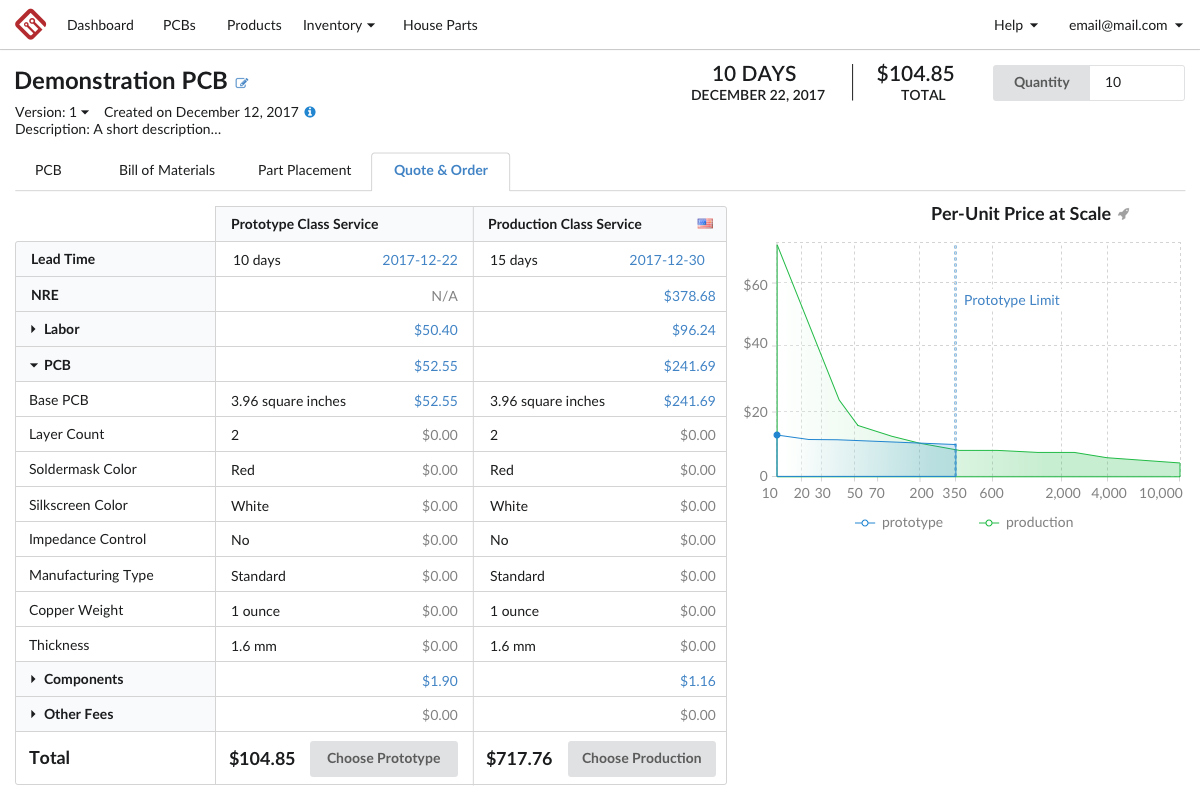 Weve built a side-by-side quoting screen tocompare Prototype and Production service type orders.
This screen eliminates confusion by providing clear, and transparent pricing, as well as lead times, and parts and labor costs.
Youll still see the same pricing at the top of your screen on all pages, which will automatically update, based on the selections you make. Additionally, our10-day prototype service for simple designs, will expedite your prototyping process. Read more here.
Bill Of Materials (BOM)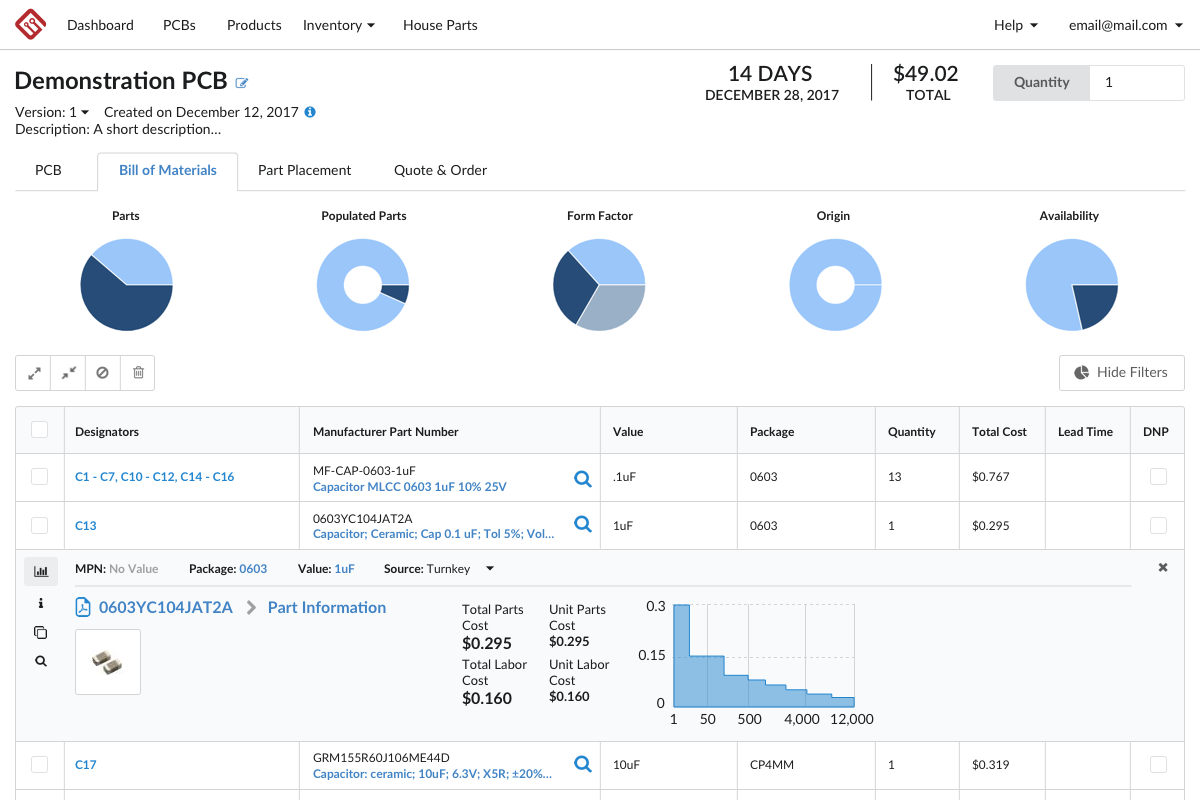 Weve simplified the overall experience for you, making it faster and easier to manage your BOM, while reducing complexity and providing details that matter.
Heres a breakdown of features weve added to the BOM screen:
Visualizing component price breaks
Add any component, whether it has a lead-time, or comes from a non-preferred vendor
Make bulk operations including group, ungroup, DNP, and delete
Lead times for unavailable parts
Faster and easier filling out of the bill of materials with automated search results
Easy-to-use filtering of the BOM, through pie charts
You now have the ability tobuy parts from other distributorsfor production orders. For parts that are unavailable, we added lead times right in the bill of materials, making it easier for you to update your projected timelines. Read more here.
PCB and Placement Screens
PCB Screen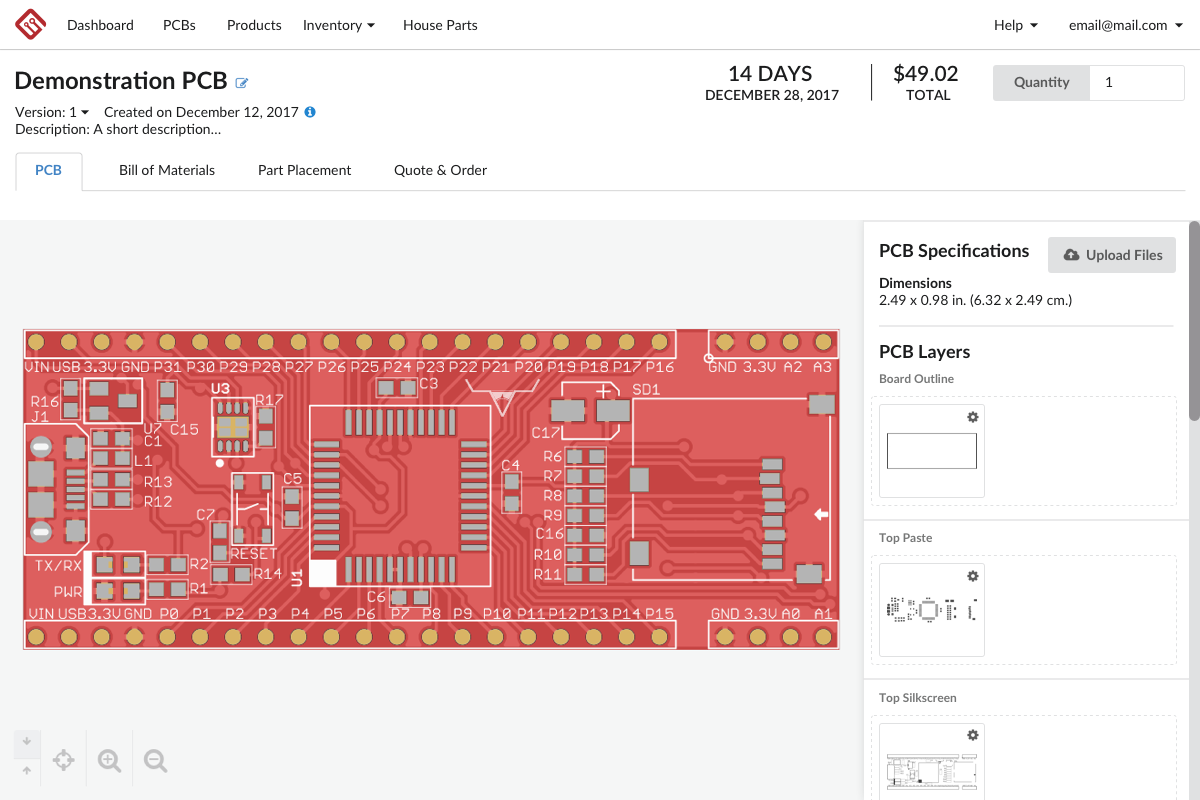 Weve combined PCB Specs, design files and PCB layers, so they are all on one view. This update provides a more accurate representation of what your board will look once its built.The PCB screen is now easier to use overall, and provides the ability to quickly address any issues byhovering and selecting layers.
Additional updates include:
Multiple files per layer*
Upload zip files of gerbers / BOMs
Quickly move layers around, or reassign them as needed.
Auto identification of files
Layer list is now on one screen
If you have 2 files for the same layer (i.e. drill files, paste, silk screen, etc.) they will be merged and tied tothe same PCB layer and youll see a list of layers with your files. This will allow for greater flexibility with how you export files.
Placement Screen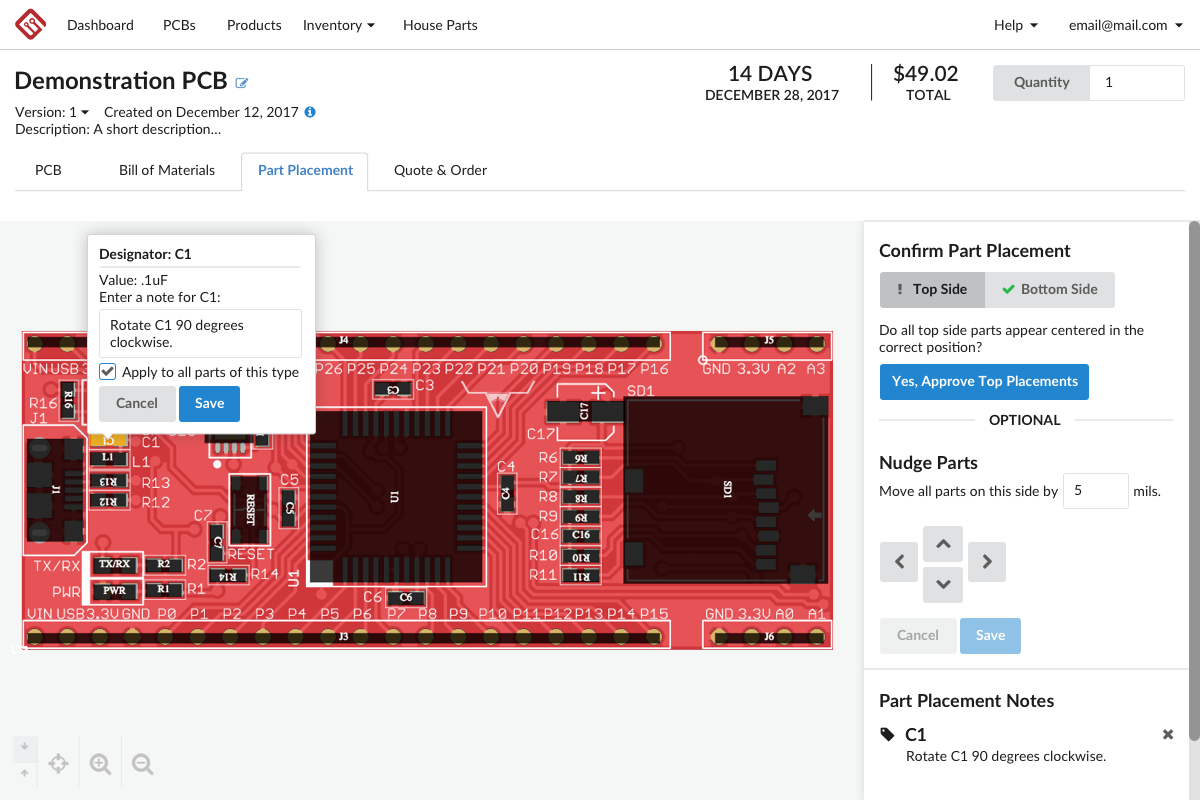 The most significant updates on the placement screen are thebulk moves feature and annotations. This feature allows you to nudge everything all at once, enabling the easy fixing of origin issues that can occur with some EDA tools. Additionally, you can now add annotations, and manufacturing notes to specific components giving you the ability to communicate changes to our team directly through the website, rather than having to email assembly instructions. Read more here.
Redefining Electronics Manufacturing
MacroFab is redefining the electronics manufacturing experience from a manual, time-intensive, and error-prone process performed by large teams of people, into a real-time, streamlined, and connected software-driven experience. With our globally competitive prices available instantly, and an interface that provides more information in a clearer format, its now easier than ever for you to take control of your projects.
For any questions or comments regarding these updates, please email support@macrofab.com
About MacroFab
MacroFab offers comprehensive manufacturing solutions, from your smallest prototyping orders to your largest production needs. Our factory network locations are strategically located across North America, ensuring that we have the flexibility to provide capacity when and where you need it most.
Experience the future of EMS manufacturing with our state-of-the-art technology platform and cutting-edge digital supply chain solutions. At MacroFab, we ensure that your electronics are produced faster, more efficiently, and with fewer logistic problems than ever before.
Take advantage of AI-enabled sourcing opportunities and employ expert teams who are connected through a user-friendly technology platform. Discover how streamlined electronics manufacturing can benefit your business by contacting us today.