Related Topics
Here is a quick overview of encapsulation vs. conformal coating, as well as their best uses.
Once a new development project completes the evaluation validation test (EVT) process, it is time to undertake the DVT (Design Validation Test) stage.
Learn how to be a power user in 30 minutes and discover a better way to build electronics with MacroFab. Every Wednesday at 2pm CST.
Other Resources
October 17, 2017
We are excited to launch a 10-day turnaround service. This service will benefit teams that quickly iterate on designs to finalize their products. For orders that meet the 10-day requirements, the shorter lead-time will be displayed on the quoting screen of MacroFab's platform, as shown below.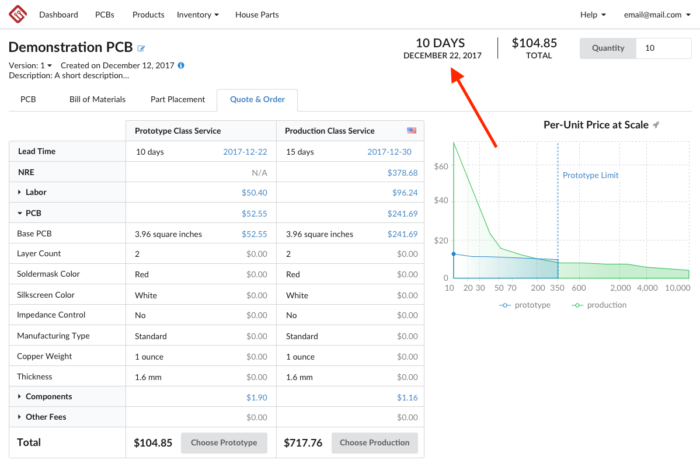 Here's a list of what types of orders can be produced using our 10-day turn time:
Have no more than 50 units
Have fewer than 2,000 surface-mount placements (SMT)
Have fewer than 20 unique SMT line items
No through-hole placements
Applies to our standard manufacturing services
No consignment parts
Getting started with MacroFab
Ordering PCBs and PCB assembly through MacroFab is easy because our online platform allows you to manage your order from start to finish. Start bycreating a free account,upload your files, check your BOM, and view instant pricing, all from your browser.
Take advantage of turnkey PCB assembly through our 10-day service. Finalize your design and we'll take care of the sourcing, purchasing, and assembly. Place your order and get your product in days.
Redefining electronics manufacturing
MacroFab is redefining the electronics manufacturing experience from a manual, time-intensive, and error-prone process performed by large teams of people, into a real-time, streamlined, and connected software-driven experience. With our globally competitive prices available instantly, and an interface that provides more information in a clearer format, it's now easier than ever for you to take control of your projects.
Get Started or Login today!
About MacroFab
MacroFab offers comprehensive manufacturing solutions, from your smallest prototyping orders to your largest production needs. Our factory network locations are strategically located across North America, ensuring that we have the flexibility to provide capacity when and where you need it most.
Experience the future of EMS manufacturing with our state-of-the-art technology platform and cutting-edge digital supply chain solutions. At MacroFab, we ensure that your electronics are produced faster, more efficiently, and with fewer logistic problems than ever before.
Take advantage of AI-enabled sourcing opportunities and employ expert teams who are connected through a user-friendly technology platform. Discover how streamlined electronics manufacturing can benefit your business by contacting us today.