Related Topics
We've expanded our House Parts to include single row pin headers.
MacroFab announces our new house parts list. These parts can reduce your design cost and ensure component availability for manufacture.
Other Resources
July 12, 2019
This blog post is to inform you that one of our house parts is being phased out. The original part we use for the MF-LED-3228-RGB has been marked obsolete by the manufacturer. We currently have 10,000 units of the MF-LED-3228-RGB part but once they are gone we will be discontinuing this house part number. We will be replacing it with the new House Part MF-LED-ASMB-RGB. The replacement part is similar to the previous part but it some slight differences. See the chart below for the part attribute changes.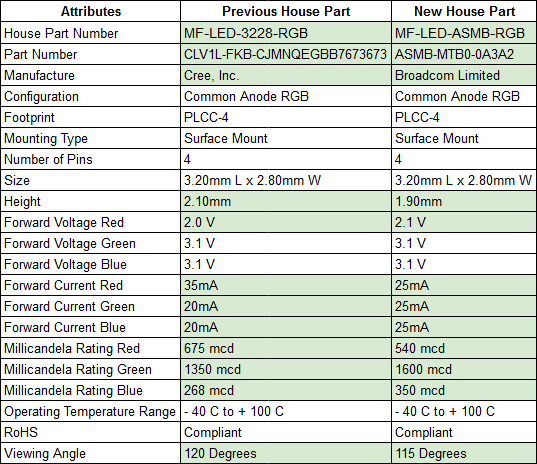 The main takeaways that are important for the new replacement is that the forward voltage for the red diode is 0.1V higher and the max current draw for each color diode is slightly different. The new MF-LED-ASMB-RGB has the same footprint and pinout as the previous LED so physical PCB layout should not have to change for your designs. You may want to ensure the LED is driven with an acceptable current before switching over however.
This change will take place as the old part is used up and as such MF-LED-3228-RGB is not recommended for new designs. We apologize for the inconvenience this can cause. You can find the new house part information and datasheet in our factory page here.
If you have any other questions please contact our support team.
About MacroFab
MacroFab offers comprehensive manufacturing solutions, from your smallest prototyping orders to your largest production needs. Our factory network locations are strategically located across North America, ensuring that we have the flexibility to provide capacity when and where you need it most.
Experience the future of EMS manufacturing with our state-of-the-art technology platform and cutting-edge digital supply chain solutions. At MacroFab, we ensure that your electronics are produced faster, more efficiently, and with fewer logistic problems than ever before.
Take advantage of AI-enabled sourcing opportunities and employ expert teams who are connected through a user-friendly technology platform. Discover how streamlined electronics manufacturing can benefit your business by contacting us today.