Related Topics
Experience a new checkout process that gives you fewer steps to purchase; an updated address book and even greater transparency.
MacroFab experienced a record-breaking year in 2018, marked by aggressive growth in bookings and revenue.
MacroFab, a Houston-based electronics manufacturer is excited to announce that board member, Misha Govshteyn has moved into a new role as Chief Executive O
Other Resources
December 4, 2019
According to Forbes, MacroFab is one of the pioneers of the Manufacturing-as-a-Service revolution that is radically changing the way manufacturing services and other outsourced production processes are sourced and managed. Industry analysts are calling this new world of digital-first electronics manufacturing EMS 2.0.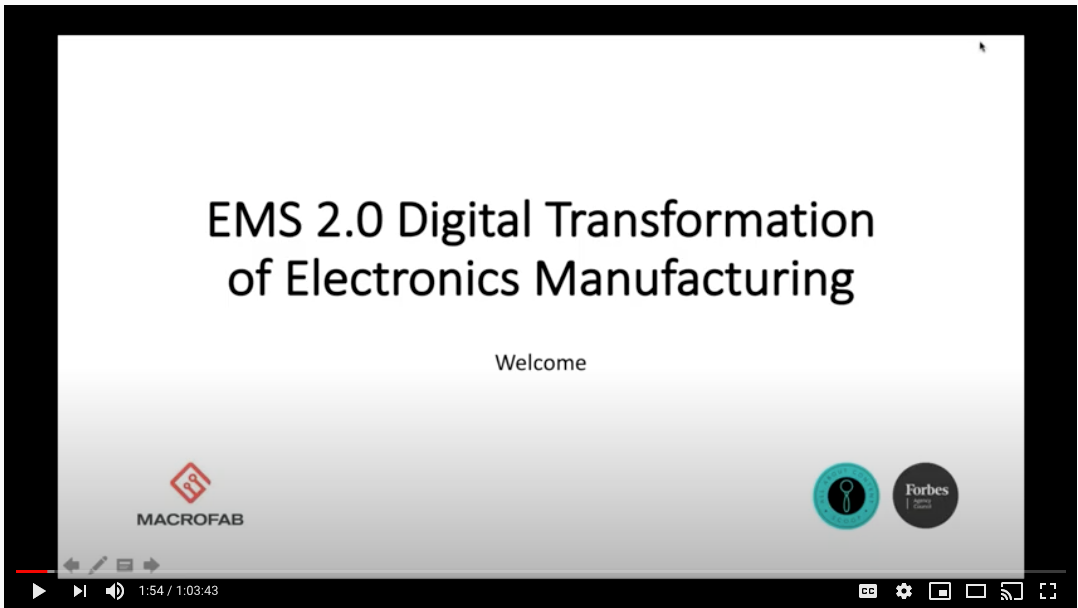 Find out how EMS 2.0 enables new levels of agility and efficiency for your electronics production.
If you're a supply chain professional, engineer or business owner this webinar will show you how you can access an agile digital platform that brings the world of competitive electronic manufacturing services within reach for a company of any size.
This could be the most important hour you spend this year! Click the image below and see how EMS 2.0 will improve your 2020 vision and accelerate your digital transformation.
You will learn how:
Smart, digital-first manufacturing platforms are simplifying the way electronics move through every stage of production, seamlessly going from single unit prototypes to high volume production.

A common platform for supply chain and engineering saves time, improves workflow and enables collaboration between your teams.

Online pricing engines enable better decision making with a real-time view into cost drivers, lead times and supply chain availability.
Smart algorithms assure a perfect match between factory capabilities and your business/technology needs.
Full systems production and testing scales at globally competitive pricing without the long lead times and hidden costs inherent to manufacturing in China.
Factory portability enables better control over your lead times while eliminating tariff exposure.
More on EMS 2.0
Digital transformation is at the core of EMS2.0. Manufacturing-as-a-Service (MaaS) platforms combine a digital-first intuitive user interface with an intelligent technology that matches supply and demand through a network of pre-certified factories in the US, Canada, and Mexico.
Procurement professionals love the simplicity of uploading CAD and BOM data to get an almost instant price, as well as the ability to see prices change dynamically as they adjust delivery time and volume with on-screen sliders. Purchasing managers can upload RFQ packages and get quotes in a few days rather than weeks. Itemized and transparent reporting means you make better-informed decisions faster.
Engineers and innovators love MacroFab's DFM on-the-fly providing design and specification feedback, while intelligent algorithms and experienced manufacturing engineers ensure all the data is ready for the quickest and simplest new product introduction once the perfectly aligned factory is selected.
Manufacturers love the easy way they can choose just how much business they take to balance their utilization, all with the lowest cost of sales, ensuring everyone gets the best value. Intelligent supply and demand matching ensure that factories only receive work that is squarely in their sweet-spot.
About MacroFab
MacroFab offers comprehensive manufacturing solutions, from your smallest prototyping orders to your largest production needs. Our factory network locations are strategically located across North America, ensuring that we have the flexibility to provide capacity when and where you need it most.
Experience the future of EMS manufacturing with our state-of-the-art technology platform and cutting-edge digital supply chain solutions. At MacroFab, we ensure that your electronics are produced faster, more efficiently, and with fewer logistic problems than ever before.
Take advantage of AI-enabled sourcing opportunities and employ expert teams who are connected through a user-friendly technology platform. Discover how streamlined electronics manufacturing can benefit your business by contacting us today.