Related Topics
Magic smoke is produced by severe electrical over-stress of your circuits and components. Here are the main causes, and how to avoid them.
Curious how to resolve issues you may be having with your PCB assembly process? Read our guide to see how MacroFab can help!
We will discuss the differences between via in pad and traditional vias, when should you use via in pad, and how to design for it.
Other Resources
September 22, 2017
This week's Red Hot PCB from our manufacturing floor features a beautiful board designed by Metiricthat was developed for SMT Research for use in monitoring building and structural performance. This is a 24-bit high resolution data acquisition board with sockets that allow the use of either a particle photon or an electron core to control the PCB and allow Wifi or Cellular communication to the cloud. This board contains analog devices AD7794 24-bit ADC that expedites accurate readings of moisture content in different materials such as wood and concrete. Another awesome feature the board contains is an NFC chip and an ST M24LR04E, that provides a clean user interface to a smartphone used for configuration and retrieval of the devices last sensor readings. With memory capable of storing years worth of logged data this board can monitor different materials used in building envelopes.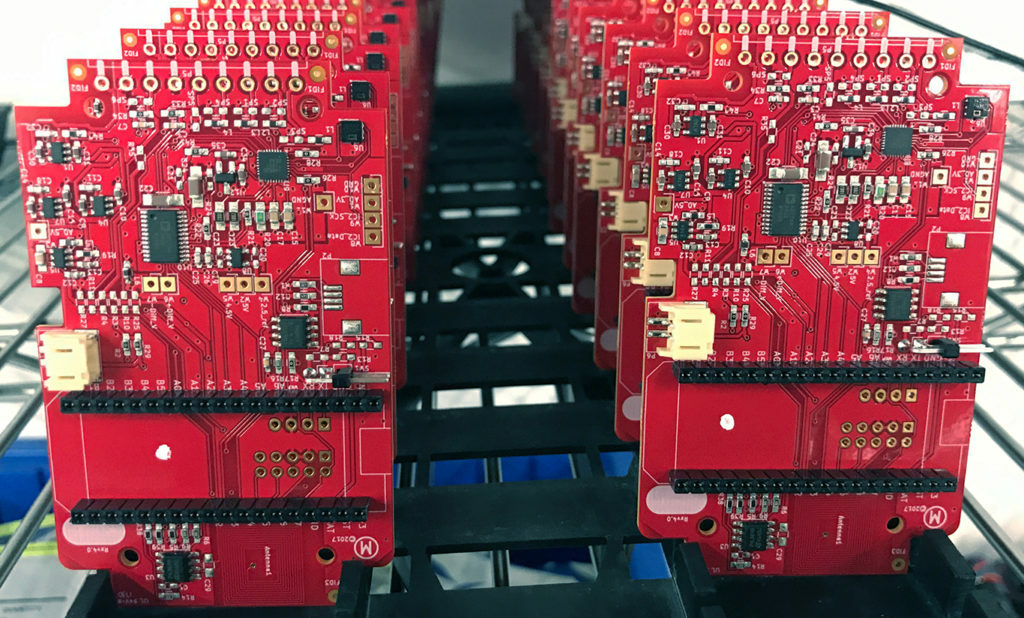 Thank you to Chris Buzunis with Metric for his Contribution on this week's post!
Was this post helpful? Let us know in the comments below.
About MacroFab
MacroFab offers comprehensive manufacturing solutions, from your smallest prototyping orders to your largest production needs. Our factory network locations are strategically located across North America, ensuring that we have the flexibility to provide capacity when and where you need it most.
Experience the future of EMS manufacturing with our state-of-the-art technology platform and cutting-edge digital supply chain solutions. At MacroFab, we ensure that your electronics are produced faster, more efficiently, and with fewer logistic problems than ever before.
Take advantage of AI-enabled sourcing opportunities and employ expert teams who are connected through a user-friendly technology platform. Discover how streamlined electronics manufacturing can benefit your business by contacting us today.