Related Topics
MacroFab empowers companies with new tools to proactively manage risks when relying on parts that can go out of stock at a moment's notice.
Our team continuously collaborates to roll out improvements that will give you the best manufacturing experience possible.
We've made the manufacturing approval process more seamless with updates to our PCB and Placement screens.
Other Resources
February 20, 2015
Wouldn't it be great if you knew what was happening with your order the second it happened? We think so, and that's why we built real-time updating into our platform from the beginning.
These alerts aren't enabled by default, but they're a snap to get setup. To get started, log in to MacroFab and then click on your email address at the top right of the screen, from the drop-down click on My Settings to access your user control panel.
Once you're in the user control panel, click on Notifications on the left. You'll be presented with a screen that looks something like this: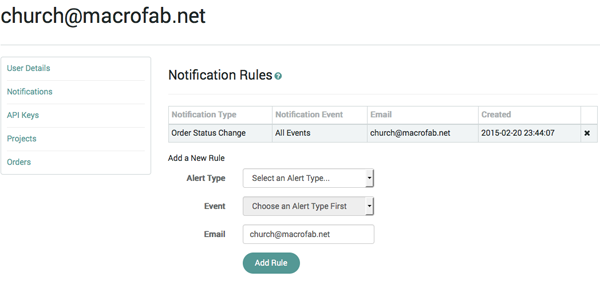 By default, we've enabled a rule that sends all order status changes to the email address you signed up with. You can delete this rule, or add another email address to receive order updates to. However, we're looking for something a little more detailed than just high level order changes. Let's get notification when important processing steps occur.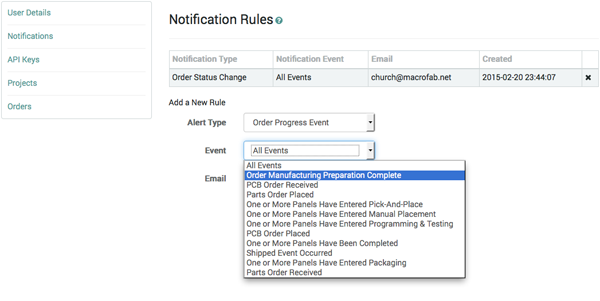 Order Progress Events are triggered as your electronics are being assembled in real-time. You can get alerts when we order the parts for your product, when panels go into pick-and-place machines, and even when we're testing your devices. You can also specify different email addresses for different events to be sent to, so if someone on your team needs to know if your order will be shipping soon, they can keep apprised of what's happening.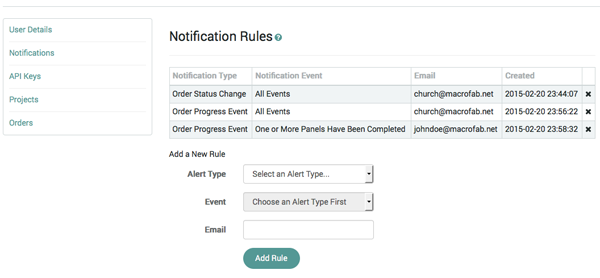 We believe that one of the biggest challenges with outsourcing your manufacturing to a contract manufacturer is the lack of transparency, real-time email alerts is just one of many ways we're working to solve that problem for you. Got a pressing need we can help you with? Drop us a line and we'll do everything we can to make your life easier!
About MacroFab
MacroFab offers comprehensive manufacturing solutions, from your smallest prototyping orders to your largest production needs. Our factory network locations are strategically located across North America, ensuring that we have the flexibility to provide capacity when and where you need it most.
Experience the future of EMS manufacturing with our state-of-the-art technology platform and cutting-edge digital supply chain solutions. At MacroFab, we ensure that your electronics are produced faster, more efficiently, and with fewer logistic problems than ever before.
Take advantage of AI-enabled sourcing opportunities and employ expert teams who are connected through a user-friendly technology platform. Discover how streamlined electronics manufacturing can benefit your business by contacting us today.