Related Topics
Transportation expenses, geopolitical factors, and the narrowing labor cost have caused companies to consider moving operations to North America.
Nearshoring to Mexico is an ideal choice for most North-American companies that need volume PCBA manufacturing.
Exports from mainland China, Japan, and South Korea have softened in recent years. Global electronics exports from these countries showed no growth.
Other Resources
July 30, 2018
Our Engineering Tech, Ramon Torres shares his story about how he got into electronics and why he loves working at MacroFab.
My passion for electronics started in elementary school when I wanted to figure out why one of the floppy disks stopped working. From there, I began to understand how computers worked. After that I was hooked; I took apart all sorts of electronics from TVs to radios, and even touch lamps. You name it, I took it apart and learned everything I could about them.
My fascination with how things worked, including the human body, inspired me to get a degree in nursing. After college, I worked as a nurse for a number of years, but I always missed working with electronics. Needless to say, I eventually left nursing to pursue something that made me much happier.
I started working at an electronics manufacturer in Houston and was there for about ten years. During my time there, I went from leading the Functional Board Test Team to running the New Product Introduction line. I gained a lot of valuable experience and loved the work.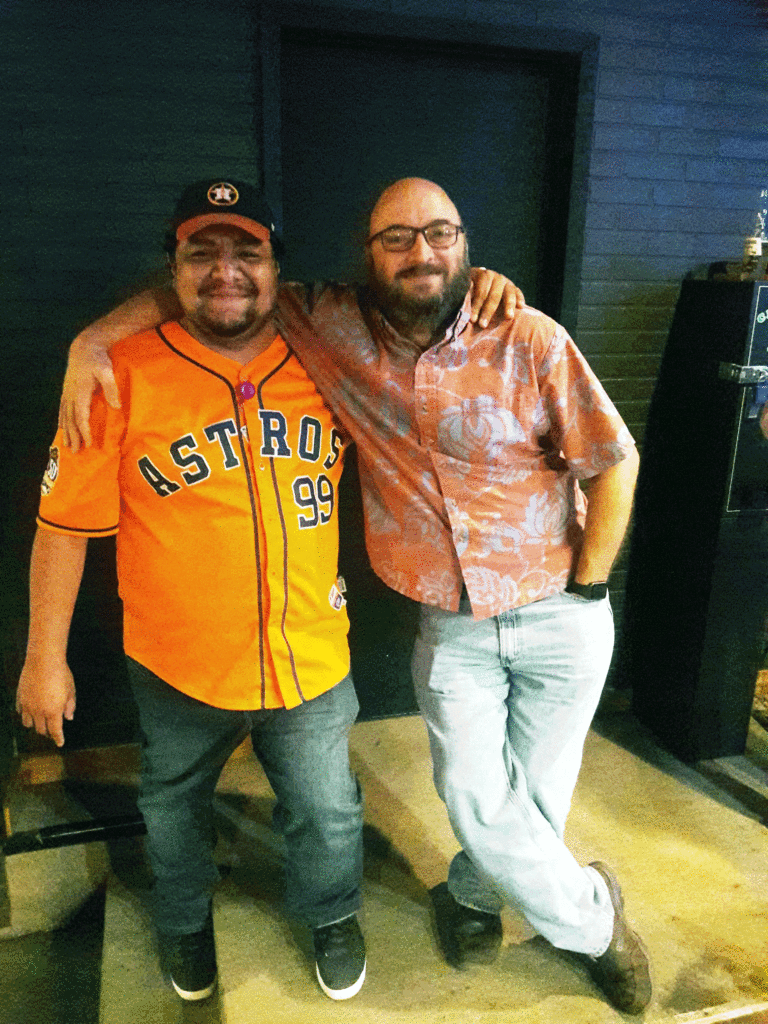 Ramon rocking the Astros gear with Mike, one of our esteemed software developers.
Slowly, I started to hear about this small startup, called MacroFab. I discovered that they were taking an innovative approach to how the industry operates and they were growing fast. I began to get more and more intrigued by them. Then, as luck would have it, I was told about a manufacturing position there. Contrary to popular belief, I didn't jump on it immediately. I wasn't sure if I wanted to leave my job and start over at a new company. But I finally decided to dive in head first and I scheduled a meeting with the then Production Manager. Boy was I nervous. I had not been on an interview for 10 years and there I was sitting in a small break room with just me and what I would later find out was MacroFab's CEO. As we began talking, he somehow calmed my nerves. It was at that moment that I knew MacroFab would be a good move for me.
That was in 2016 and both myself and the company have grown so much. I started out kitting and shipping and helped develop processes for the online shipping system that's used today. I've had several positions since then and am now the Engineer Tech.
We are a tight-knit team that works hard on a daily basis to provide our customers with their great products. I think MacroFab works so well because of the people that are building this company, from every department and at every level. Our Development Team builds tools for us that constantly improve our workflows and the manufacturing team comes across so many interesting designs that we are excited to assemble. To me, MacroFab is a great place for us to work and a better place for customers to have their products manufactured.
About MacroFab
MacroFab offers comprehensive manufacturing solutions, from your smallest prototyping orders to your largest production needs. Our factory network locations are strategically located across North America, ensuring that we have the flexibility to provide capacity when and where you need it most.
Experience the future of EMS manufacturing with our state-of-the-art technology platform and cutting-edge digital supply chain solutions. At MacroFab, we ensure that your electronics are produced faster, more efficiently, and with fewer logistic problems than ever before.
Take advantage of AI-enabled sourcing opportunities and employ expert teams who are connected through a user-friendly technology platform. Discover how streamlined electronics manufacturing can benefit your business by contacting us today.