A recent hardware startup survey from Hardware Club produced some interesting insights from entrepreneurial founders across the globe.
MacroFab, a Houston-based electronics manufacturer is excited to announce that board member, Misha Govshteyn has moved into a new role as Chief Executive O
MacroFab Software Developer Kaylan Smith discusses how she went from fine arts to software development and PCB workflow and just how connected they are.
Other Resources
Last week, I was invited out to Particle's first conference, Spectra. The conference was designed to cater to IoT designers and product creators. I thought it would be a great opportunity to learn more about the products our customers here at MacroFab use and potentially meet some interesting people to bring on as guests for the MacroFab Engineering Podcast. One flight later, I was in San Francisco, California for the conference!
The Venue
Spectra was held at the Bespoke Coworking space which is in the Westfield San Francisco Centre mall. The mall is typically open around 11AM and the conference started at 8AM so I got to walk through a practically quiet mall devoid of life. Reminded me of the beginnings of zombie movies.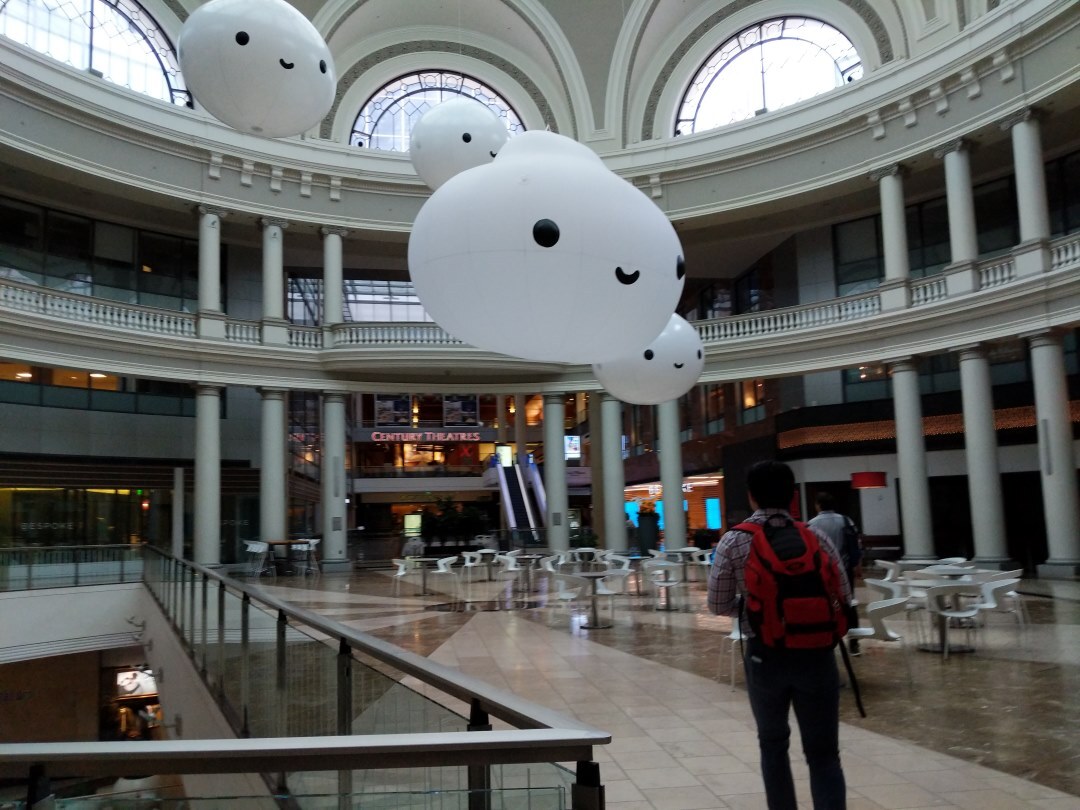 The Westfield San Francisco Centre before it opened to the public that day.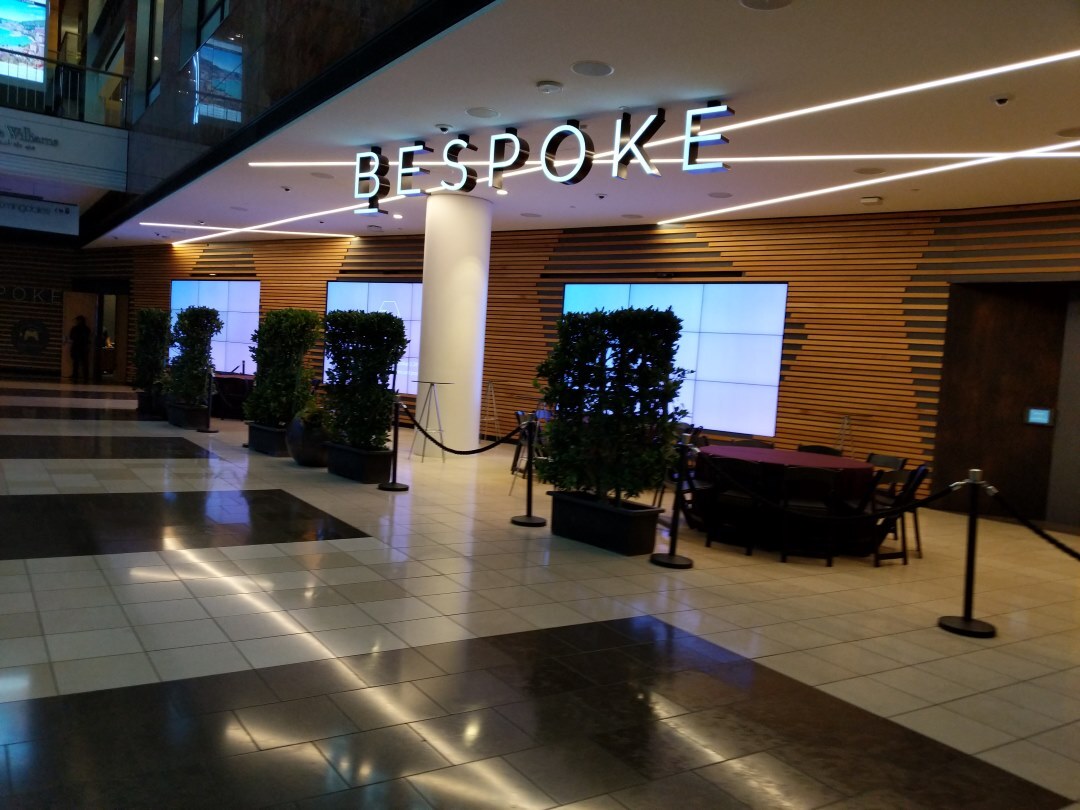 The combination of the light up Bespoke sign/logo and accent ceiling lighting makes the venue look really neat.
Particle's Keynote
The first presentation started at 9 am with Zach Supalla, Founder and CEO of Particle. Long-time listeners of the MacroFab Engineering Podcast will know that Stephen and I tend to satirize most IoT devices but I really enjoyed Zach's perspective on the Internet of Things. IoT should not be about connecting your refrigerator to the internet but should be used to solve real-world problems where having more data and connectivity are the solution. This creates real value for people in the IoT space instead of hype.
After Zach stepped off the stage, Particle announced a couple of new hardware products and software development tools that are pretty exciting from a manufacturing and product developer standpoint. Particle Mesh, Particle IoT Rules Engine, an updated Particle Workbench, and a new System on Module form factor for Particle hardware were announced.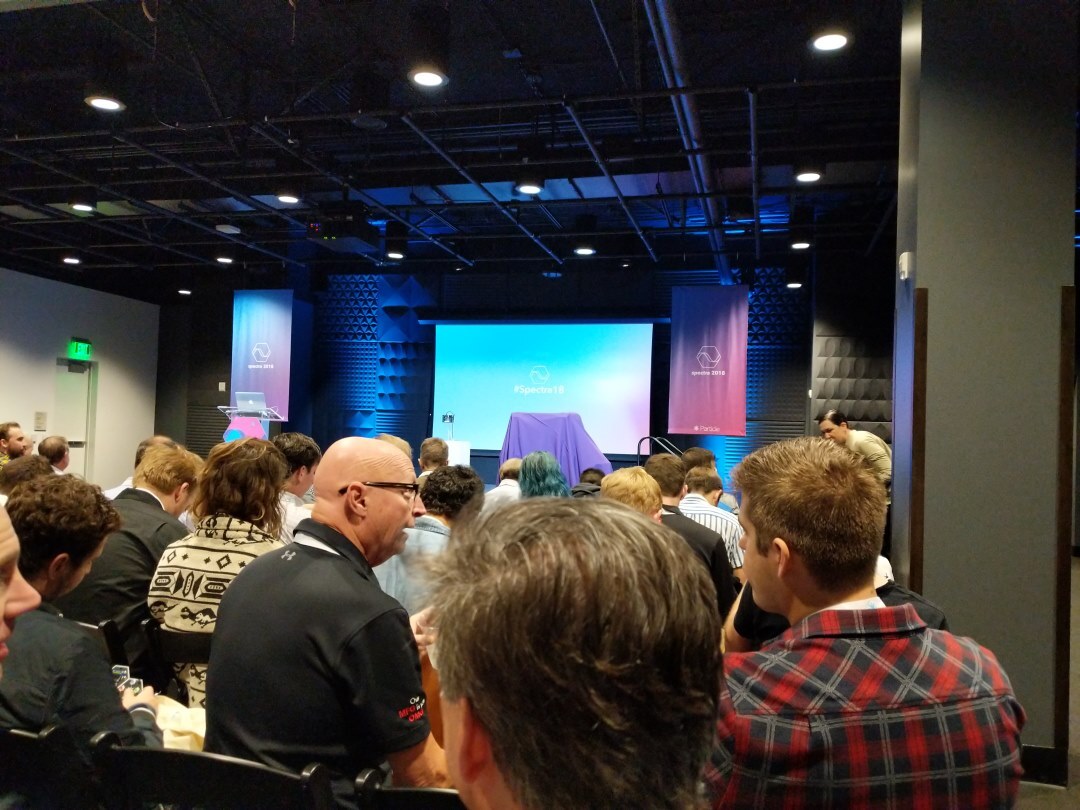 Particle's morning keynote talk was a full house. New product announcements and quick product demos were shown.
Particle's New Product Announcements
Particle Mesh is Particle's latest blend of hardware and software that allows the creation of a robust mesh network to enable low power IoT devices. Instead of having each device in the network communicate back to the host server on the internet, the mesh network allows nodes to talk to each other. This creates a robust local network that can operate without an internet connection. Each device operates as a mesh network repeater to expand the network with minimal infrastructure needed. There are three devices: the Argon, Boron, and Xenon. Each of these devices is capable of operating on the Particle Mesh network but each is paired with different functions in the network. Argon has a Wi-Fi module so it can bridge the Particle Mesh network to the internet over Wi-Fi. Boron has an LTE cellular module that allows it to bridge the Particle Mesh network to the internet where ever cell service is available. The Xenon can act as a Particle Mesh network repeater which allows it to expand the range the Particle Mesh network covers.
The Particle IoT Rules Engine is a programming tool for IoT applications that allows browser-based editing by using drag and drop modules. It is built upon the Node-RED tool. The IoT Rules Engine makes it easier to create cloud-side applications without having to manage your own cloud-based computing or servers. It allows users to build in data management, device commands, analytics, and alert systems quickly into a custom built IoT platform. Particle's hope is to allow anyone in a business or startup to make their own rule sets and not just the developers and engineers. Instead of having to wait weeks for a developer to set up an alert a support staff member can quickly make a rule to give them the proper notifications. This reminds me a lot of what ladder logic did for programming automation for PLCs.
Particle Workbench is Particle's latest desktop development tool for Particle hardware. It is based on Visual Studio Code. Particle Workbench addresses problems of the previous IDE by allowing local compiling and proper debugging. Oh, and it has a dark theme.
Lastly but one of the pieces of hardware I am most excited for is Particle's new System on a Module (SoM) hardware formats. These are the normal Particle mesh hardware but packaged into a module that uses the M.2 connector format. Each module will share the same pinout and power scheme making it easy to swap between different Particle technologies. I'm excited about this because a product designer will only need to design one SKU for manufacturing and then at the product build box phase just snap in which module is needed. This can greatly reduce how much inventory is needed to be kept in stock, and simplifies the supply chain.
Workshops
After the keynote there were several other presentations and talks. The one workshop I managed to get to was an introduction to the Particle Mesh hardware platform using the new Particle Workbench. This was taught by Brandon Satrom who was on episode #122 of the MacroFab Engineering Podcast. In the workshop, we used the conference badge to create a mesh network with another Particle Xenon that was included in our conference swag.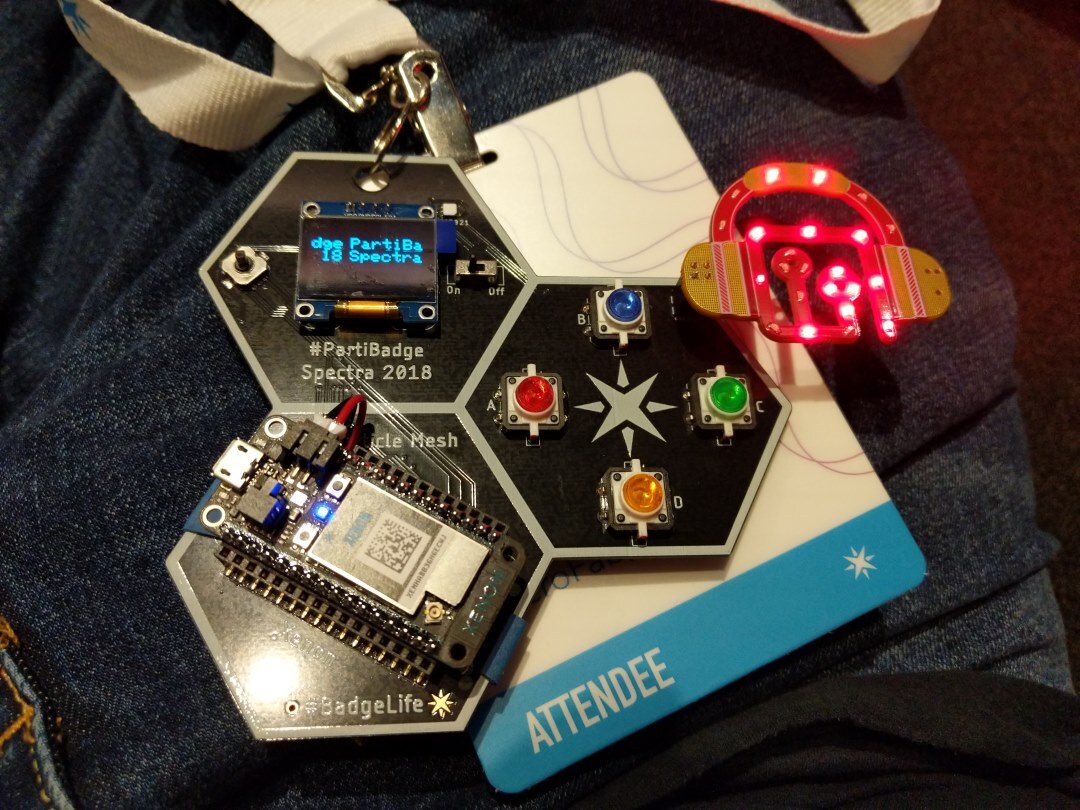 The Particle #PartiBadge for the Spectra 2018 conference. I attached my MEP SAO!
There were other workshops for the Particle Rules Engine and the new Workbench desktop tool but I ended up networking with other product developers, designers, and IoT enthusiasts during lunch. Watch out for some interesting guests and topics on the MacroFab Engineering Podcast in the near future. I'm looking forward to next year's Particle Spectra Conference. Maybe we'll bring the podcast on the road?