Related Topics
Choreograph with your team and CM to achieve smooth electronics logistics planning. Our short blog will provide you tips and tricks.
Electronic Kickstarter fulfillment is key. You'll want a manufacturer who manages and fulfills your Kickstarter inventory via cloud-based platform.
Introducing MacroFab's new build planning tool for products.
Other Resources
January 25, 2017
We've made some changes to the Product Fulfillment workflow. We've simplified the workflow so that new and imported requests are moved directly into a fulfillment queue.
When viewing your fulfillment queue, you are presented with a convenient set of graphs that represent the amount of available inventory for each of the products to be fulfilled. As you select requests in the queue, the inventory graphs are updated in real time so that you can visually prioritize your inventory consumption. Once you are happy with your selections, you can purchase all checked items in bulk, and we will begin the process of packaging and shipping your orders.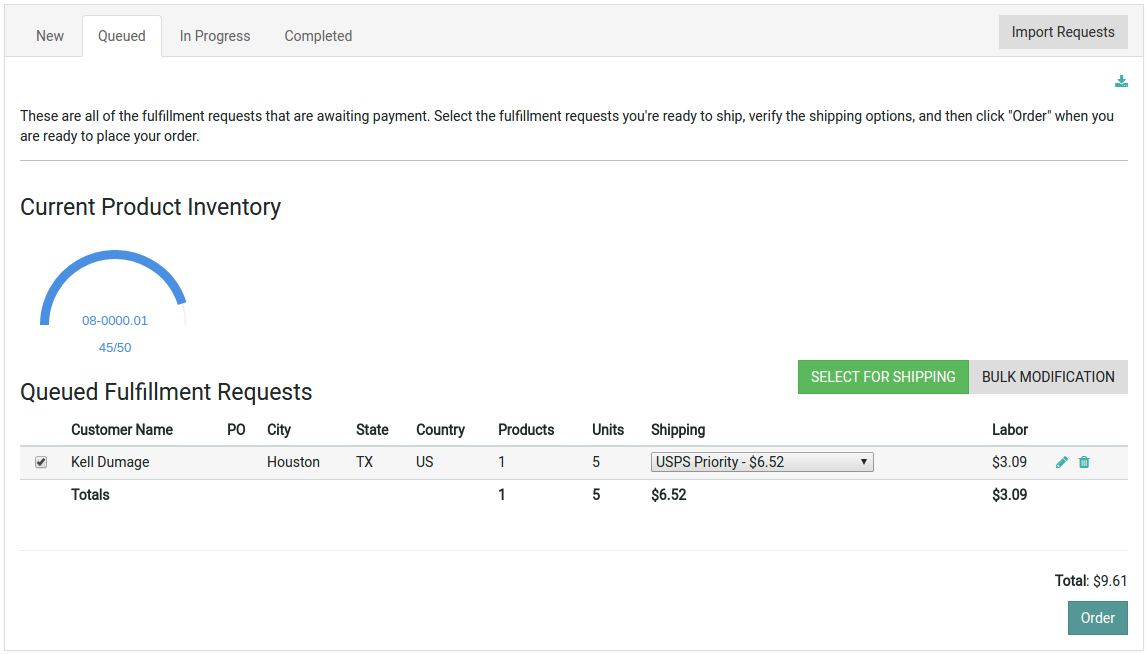 Once inventory has been depleted, additional fulfillment requests requiring that inventory item cannot be selected. However, we do provide the ability to delete fulfillment requests in bulk regardless of inventory levels. By toggling the slider at the top of the screen to Bulk Modification, you have the ability to select fulfillment requests for batch operations, and then delete them using the Bulk Delete button at the bottom of the list.
We hope you find this improvement makes fulfilling your products easier. This is a first step towards more business focused improvements that we hope you'll take advantage of in launching new and innovative products!
About MacroFab
MacroFab offers comprehensive manufacturing solutions, from your smallest prototyping orders to your largest production needs. Our factory network locations are strategically located across North America, ensuring that we have the flexibility to provide capacity when and where you need it most.
Experience the future of EMS manufacturing with our state-of-the-art technology platform and cutting-edge digital supply chain solutions. At MacroFab, we ensure that your electronics are produced faster, more efficiently, and with fewer logistic problems than ever before.
Take advantage of AI-enabled sourcing opportunities and employ expert teams who are connected through a user-friendly technology platform. Discover how streamlined electronics manufacturing can benefit your business by contacting us today.