Related Topics
Before sending your final design files to the CM for PCB manufacturing, check out these useful tips and final steps.
Companies looking to increase the agility, productivity, and resilience of their electronics supply chains can do so with local and regional vendors.
Switching to Mexico today is a smart move for companies with midsize to large production runs wanting to enjoy nearshoring manufacturing advantages.
Other Resources
December 30, 2016
At MacroFab, we aim to do more than build electronics; we want to help you grow your business and be more efficient. To successfully deliver your products to your customers, you need to be able to quickly find out the status of your PCB manufacturing, when your customers are getting their orders, and when you need to refill your base materials.
Today we released a new feature to make it easier to get that picture of everything you have going on within the MacroFab platform.
All of Your Activity in One Place
The Dashboard is now available from the navigation bar within the MacroFab product, displaying a number of core statistics and charts to show you the status of your PCB orders, product fulfillment requests, inventory, and incoming shipments.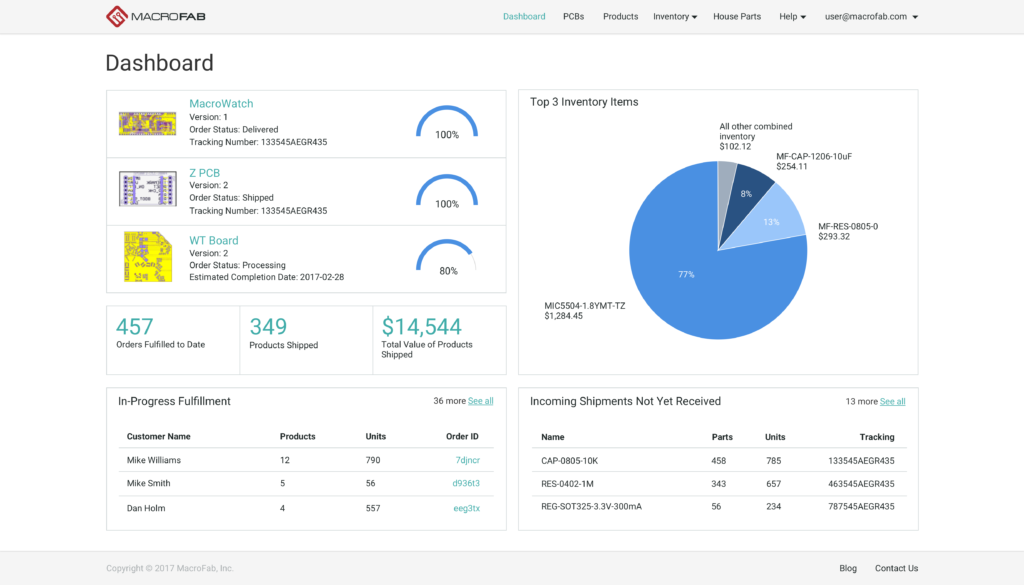 The PCB Order status panel shows your three most recent PCB orders with information about each one. If the status of your order has been updated to shipped, the tracking number is provided. If your order is still being reviewed or is currently processing, your estimated completion date is provided along with a graph indicating the up-to-date progress of your order.
The Fulfillment panel shows the most recent fulfillment orders that are being processed, along with some cumulative statistics about your fulfillment history.
The Inventory panel shows you, at a glance, your current inventory levels. The pie chart displays your three top inventory items by total value, along with the total value of all of your remaining combined inventory.
You can also see the status of any shipments that we are expecting from you via the Incoming Shipments panel.
For a full write-up on this new feature, please visit the help doc: Using the Dashboard
Tell us what you think about this new feature. Shoot us a tweet @macrofab. If you have any questions, feature requests, or feedback, don't hesitate to let us know by emailing us at support@macrofab.com.
About MacroFab
MacroFab offers comprehensive manufacturing solutions, from your smallest prototyping orders to your largest production needs. Our factory network locations are strategically located across North America, ensuring that we have the flexibility to provide capacity when and where you need it most.
Experience the future of EMS manufacturing with our state-of-the-art technology platform and cutting-edge digital supply chain solutions. At MacroFab, we ensure that your electronics are produced faster, more efficiently, and with fewer logistic problems than ever before.
Take advantage of AI-enabled sourcing opportunities and employ expert teams who are connected through a user-friendly technology platform. Discover how streamlined electronics manufacturing can benefit your business by contacting us today.