Related Topics
Transportation expenses, geopolitical factors, and the narrowing labor cost have caused companies to consider moving operations to North America.
Despite the challenges posed by global supply chains, sales of new robots still grew slightly at 0.5%, with 384,000 units shipped globally in 2020.
Except for uncertainty, almost nothing is guaranteed in 2023. Here's what we do know.
Other Resources
November 3, 2015
Getting your product manufactured is the first step in creating happy customers, but what to do now that you've got hundreds, or even thousands of products showing up in boxes and customers hungry for your next great invention? Spending your next week (or more!) going through pick lists, packing boxes, filling out shipping labels and trying to get everything to the post office is time you're not spending reaching out to your customers and developing new features.
Shipping product is dreary work any way you slice it. To make matters worse, the more successful you are the more of it you have to do. Traditionally, your work around is to ship all of your items off to a fulfillment company who will then take care of shipping out your products. These companies provide a great service, but come with a lot of additional costs – both in the time it takes to ship your items back and forth, and at the price of all of that shipping.
Taking your product direct from manufacturing to fulfillment, without needing to ship it anywhere, is the lowest cost and fastest method to get your product into the hands of customers. While some traditional manufacturers can handle this process for you, it's never been done transparently and in your control — nearly always it involves spreadsheets, is error-prone, and you're never quite sure of where things are until everything's been said and done.
Here at MacroFab, we know this pain: we've shipped out thousands of products ourselves to our customers, we've spent nights and weekends packing boxes, and gotten lost in piles of pick sheets and labels. We've worked with 3rd-party fulfillment companies, and spent ages trying to communicate complicated orders, only to have them come out wrong at the end. This is why we're now launching our inventory and fulfillment features which will give you complete and transparent control of your product from manufacturing all the way to your customers' hands.
Our new inventory features let you carry inventory in our warehouse, consume from it for manufacturing, and build into it rather than having to ship your manufactured products out. Once the items are in inventory, you can then upload lists of shipments to make, up to thousands at a time, and we take care of the rest for you!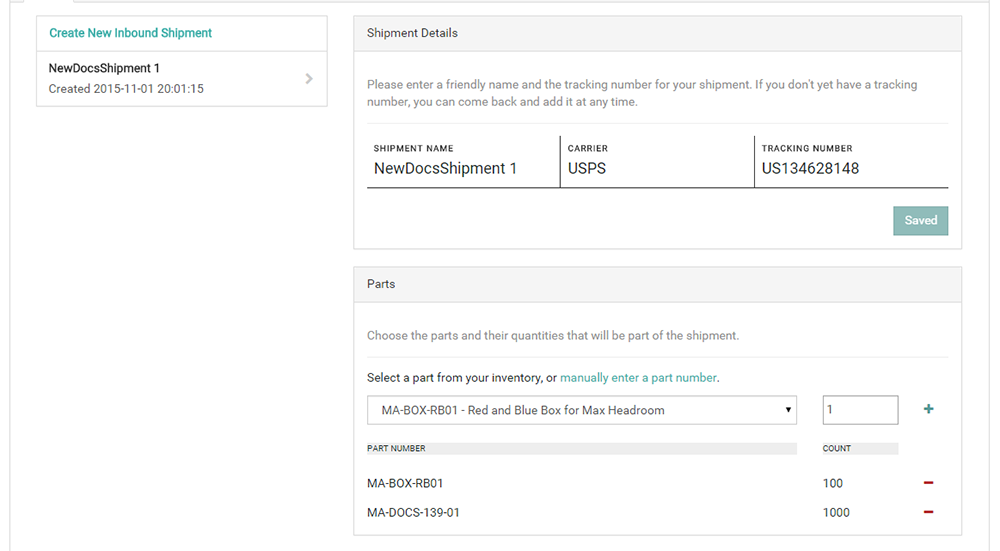 A product-based workflow allows you to combine multiple PCBs and other items you ship to us into a single product, and even dynamically link versions of PCBs in the MacroFab system to a product so that your product bill of materials will automatically update as you make changes.
Our pricing is straight-forward: for each shipment, you pay our discounted shipping rates with no markup and a flat-fee based on where the shipment is going and how many items are in the box. Our insured warehouse storage is charged monthly based on the cubic volume you used that month. To make the switch even easier, we're offering our storage free until April 2016.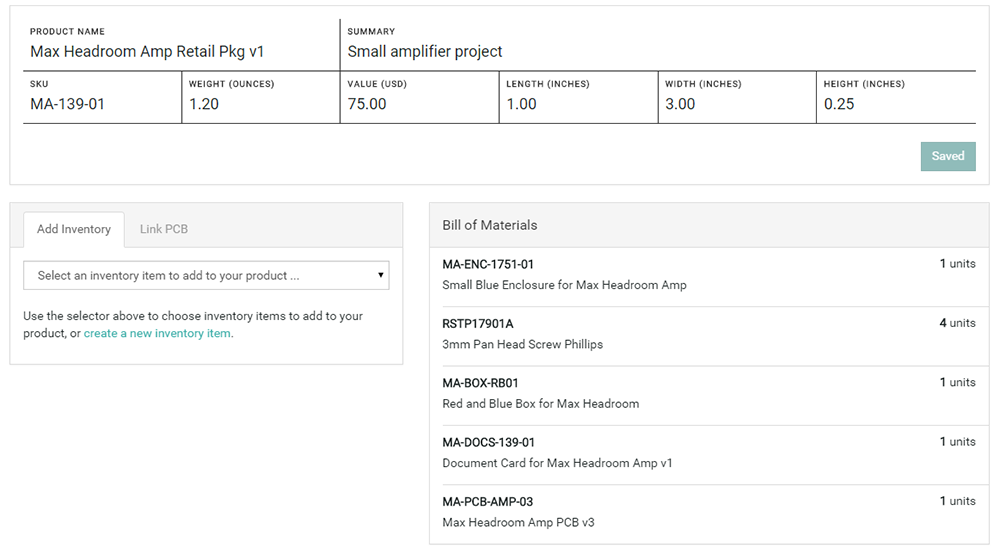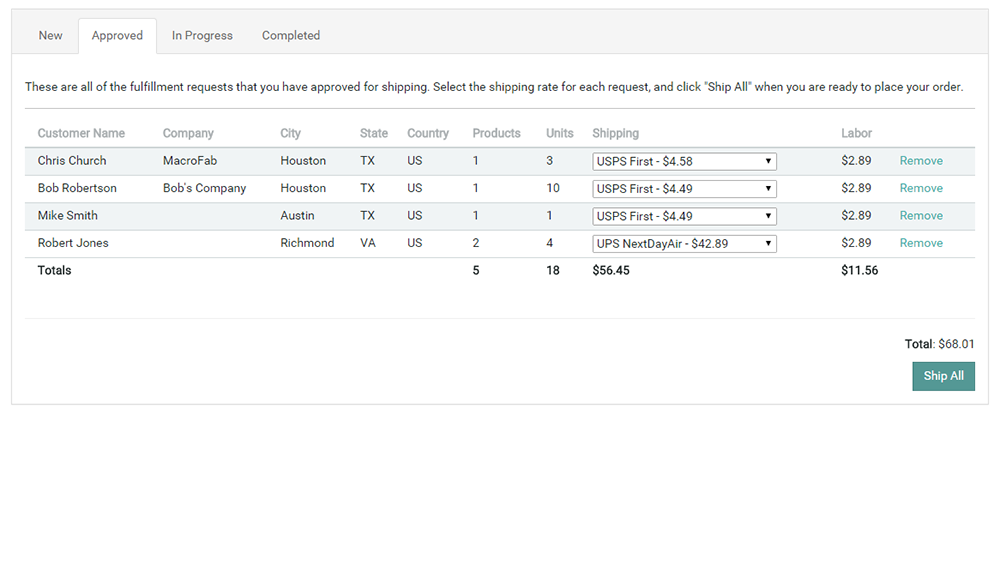 The is just the first stage of the fully integrated manufacturing and operations platform we've set out to build. Soon, you'll be able to define highly complex products with multiple-step build processes and get assembly and materials quotes for everything you need to make a finished product, all without ever having to call or email us.
About MacroFab
MacroFab offers comprehensive manufacturing solutions, from your smallest prototyping orders to your largest production needs. Our factory network locations are strategically located across North America, ensuring that we have the flexibility to provide capacity when and where you need it most.
Experience the future of EMS manufacturing with our state-of-the-art technology platform and cutting-edge digital supply chain solutions. At MacroFab, we ensure that your electronics are produced faster, more efficiently, and with fewer logistic problems than ever before.
Take advantage of AI-enabled sourcing opportunities and employ expert teams who are connected through a user-friendly technology platform. Discover how streamlined electronics manufacturing can benefit your business by contacting us today.