Related Topics
The benefits of AI are clear faster decision-making, better integration, and increased efficiency, to name a few.
Many supply chain teams don't have the information needed to make informed decisions. They can't respond effectively to disruption or keep up with demand.
Cloud manufacturing solutions are on the rise, thanks in large part to the rapid adoption of smart technology in industrial settings.
Other Resources
April 1, 2021
Cloud Manufacturing is the next great advance in lean production. In many of the same ways that cloud computing enabled software companies to be more agile, cloud manufacturing offers lower costs and greater elasticity than ever before. Cloud Manufacturing will enable hardware OEMs to respond to changing market conditions faster and with lower total costs than traditional contract manufacturing.
Cloud Computing, put simply, is the ability to provision compute, storage, and networking services on demand. Cloud Manufacturing builds on these concepts and translates them to the physical world of contract manufacturing to enable companies to manage their portfolio of products using the same tools and capabilities software companies have been leveraging for years.
How Cloud Technology Benefits Manufacturing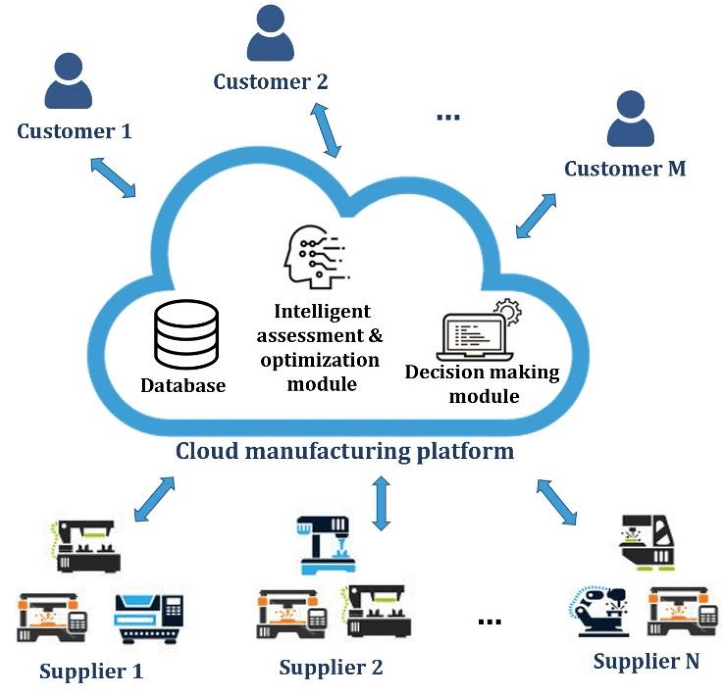 Through Cloud Manufacturing, companies can leverage the capacity of dozens, if not hundreds, of contract manufacturing facilities in parallel and manage an entire catalog of products through a single control channel. This makes it easier to route around short-term regional outages due to weather, events, and even geopolitical landscape changes. Monitoring changing build conditions such as reduced capacity and changes in quality outcomes happens in real time. Manufacturing issues can be compensated for by easily switching to higher-capacity or quality factories.
In short, Cloud Manufacturing enables hardware manufacturers to be more agile than ever before. Unlike traditional contract manufacturing agreements where two parties agree to a specific set of production capacity and pricing and significant changes in demand can result in the need to source new manufacturers, Cloud Computing enables true elasticity of production. The right-fit factory for a million production units of a product, and the right-fit factory for a dozen prototypes is wildly different, but with a true Cloud Manufacturing platform, orders route to the best factory in real time without additional negotiation or time wasted on repeating NPI processes or creating friction between Contract Manufacturer and Customer. The end result is that you can respond quickly to changing market conditions without risking your relationship with your existing manufacturers.
Example of how a cloud manufacturing platform works
How Cloud Manufacturing Works
By taking advantage of available capacity at hundreds of factories across multiple regions, Cloud Manufacturing enables jobs to be quickly routed to the best available factory for the specific product and quantity in real time. To make this work, it builds on three core concepts:
Virtualization–Each factory is unique, both from an equipment and team skills perspective. Likewise, each factory has different business and scheduling constraints. Through virtualization, each factory model works upon its capabilities, its past performance, its present trending performance, and the available capacity slots. The ideal factory for any given product, at any given volume, is then conceptualized and routed to the highest-performing factory meeting that ideal profile with an available capacity slot in the Company's demand window.
Standardization–To enable seamless switching between factories, standardized work instructions, tooling, and materials must be readily consumed by the given factory. While data transfer formats like IPC-2581 enable efficient standardization of PCB assembly information, Cloud Manufacturing requires going a step further and handling secondary work instructions, tooling standardization, and more, enabling quick uptake with minimal issues. All products change throughout their lifecycle, so process changes, material changes, etc. are added to the standard data package to ensure no information gets trapped in a well of tribal knowledge.
Orchestration–Materials and tooling have to be sourced from multiple vendors, individual product elements can be built in parallel before final assembly, and goods may be routed to multiple different warehouses for end-user fulfillment. Cloud Manufacturing, enabled by an intelligent digital orchestration layer, manages every aspect of logistics. It constantly learns new and more effective strategies for the acquisition and deployment of tasks, from everyday purchasing to shipping, and into the manufacturing process itself.
Get Agile
Are you struggling with managing multiple manufacturers, ever-changing customer demands, and the challenges of traditional manufacturing? Would you like to learn more about how MacroFab's Cloud Manufacturing model can make your company more agile? If so, contact us to learn more.
About MacroFab
MacroFab offers comprehensive manufacturing solutions, from your smallest prototyping orders to your largest production needs. Our factory network locations are strategically located across North America, ensuring that we have the flexibility to provide capacity when and where you need it most.
Experience the future of EMS manufacturing with our state-of-the-art technology platform and cutting-edge digital supply chain solutions. At MacroFab, we ensure that your electronics are produced faster, more efficiently, and with fewer logistic problems than ever before.
Take advantage of AI-enabled sourcing opportunities and employ expert teams who are connected through a user-friendly technology platform. Discover how streamlined electronics manufacturing can benefit your business by contacting us today.