Related Topics
Transportation expenses, geopolitical factors, and the narrowing labor cost have caused companies to consider moving operations to North America.
Despite the challenges posed by global supply chains, sales of new robots still grew slightly at 0.5%, with 384,000 units shipped globally in 2020.
Except for uncertainty, almost nothing is guaranteed in 2023. Here's what we do know.
Other Resources
January 30, 2022
Altimade Fuses Design with Manufacturing
Taking a new design from concept to manufacturing can be difficult, and transferring files to the manufacturer can take unprecedented blocks of time. The traditional manufacturing process becomes more complicated from there. Questions about price, component availability, and possible part alternatives can spark a round-robin of emails and phone calls between user and manufacturer.
MacroFab and Altium recently teamed up to make the process easier by integrating the Altium EDA tools with MacroFab's cloud electronic manufacturing platform. The result is Altimade.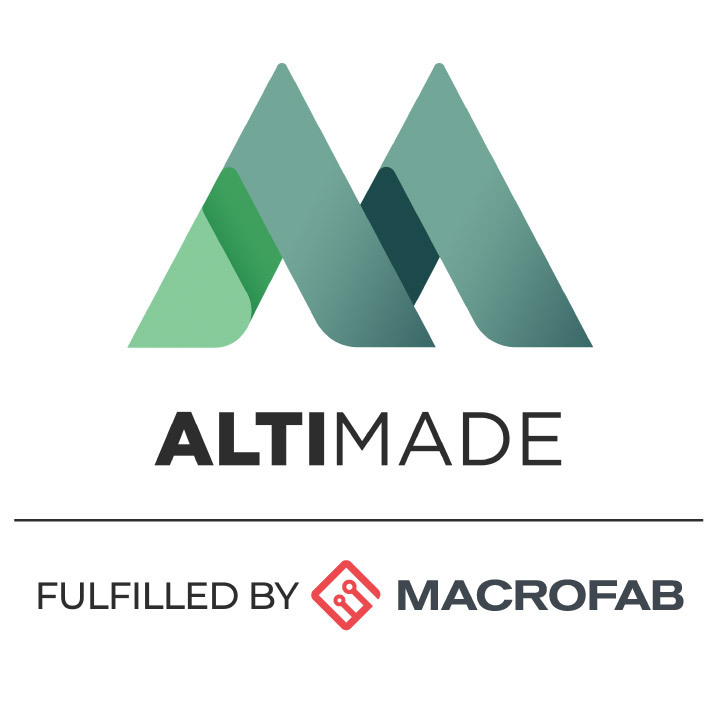 Altimade simplifies and streamlines the design-to-manufacture process by connecting Altium design tools to MacroFab's growing manufacturing network. Altimade lets customers place prototype orders directly with MacroFab from their workspace with a single click. This is the first partnership of its kind between Altium and a manufacturing partner.
Altimade offers users a single, powerful tool that will take their concept from design to final product while empowering them with complete control over costs, unexpected changes, availability, and timeline, all without leaving their desktop. Altimade will become available first as an extension for Altium Designer. Later, it will add functionality for Altium 365, Upverter, and NEXUS. The program allows users to keep files organized within project folders that remain easily accessible and reusable. This eases the transition when a project moves from prototyping to production or when a new product iteration needs to be considered.
Altimade Capabilities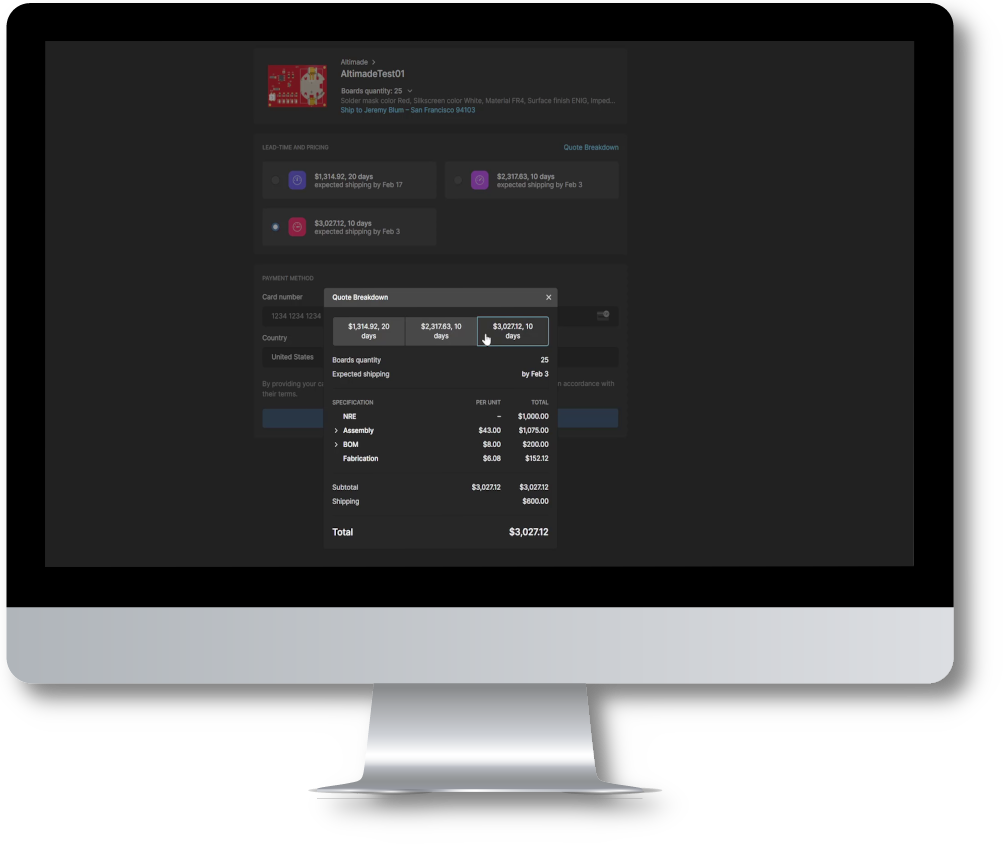 Altimade puts everything you need for ordering prototypes straight onto your desktop. You can:
Order from your workstation.

Altimade sends your order to MacroFab without exports, output files, or special releases. Your design is shared with MacroFab via your desktop.

Review BOM.

Altimade uses real-time parts availability data from MacroFabproviding a BOM review as you order without unexpected changes.

Maintain design integrity.

You share native files directly with MacroFab, ensuring prototypes match design intent.

Choose order speed.

Altimade offers multiple order options partitioned by speed and price, giving you control over what is most important.

Share needed data.

Altimade shares required manufacturing data with MacroFab. Other design data remains private and confidential.

Simplify your workflow.

Securely and seamlessly share data without reconfiguration or export.

See order status.

Orders become instantly viewable within Altium Designer. Know your progress from start to finish.

Track costs.

Altimade generates real-time quotes as you work, giving you direct feedback on how design changes can affect your bottom line. Altimade even handles payment right from your computer.

Maintain a digital design record.

Your design remains in the Altium ecosystem, instantly and automatically giving you a secure, reliable digital record from design to production.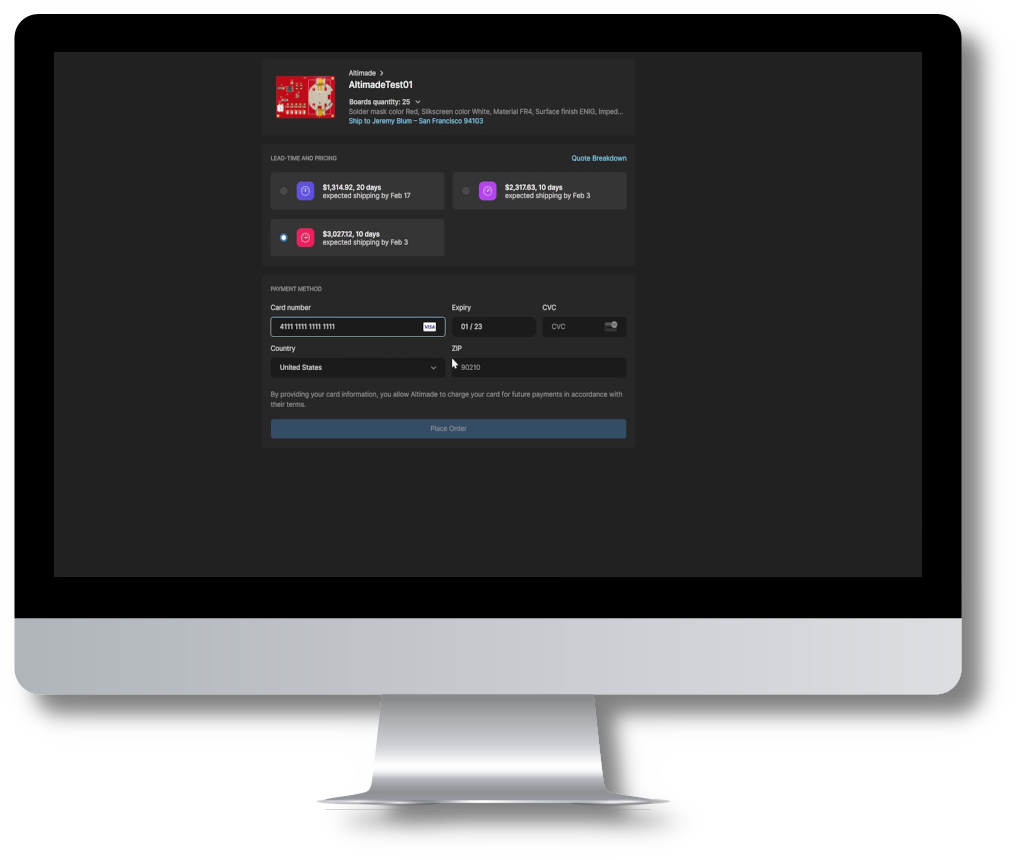 Altimade represents a significant step toward realizing electronics manufacturing's future capabilities. It will significantly decrease the time gap between design and production by eliminating unnecessary back and forth communication. This is only a first step, but it should prove to be an excellent solution to a longstanding, complicated issue.
Advantages After Prototyping
Altimade is particularly useful post-prototype due to the various manufacturing options available through MacroFab. The company has an entire suite of factories across North America mapped to specific capabilities, giving Altimade users the ability to manufacture small or more significant production runs in factories across Mexico, Canada, and the United States.
In addition, MacroFab's elastic manufacturing capacity gives users the flexibility to scale up their production as quickly or as slowly as they need, with the option to change production scale fast to meet changing demand.
Finally, as your pre-production partner, MacroFab already understands your product. This offers invaluable data that remains as your job moves forward into the production process, simplifying and speeding up production.
Altimade is designed for electronics industry professionals who want to simplify the design to the prototyping process. The process offers built-in function design constraints and an automatic DFM process that immediately checks DFM as a quote is generated. Automatic DFM checks are supported by a second design check by a MacroFab team member after the order is placed.
About MacroFab
MacroFab offers comprehensive manufacturing solutions, from your smallest prototyping orders to your largest production needs. Our factory network locations are strategically located across North America, ensuring that we have the flexibility to provide capacity when and where you need it most.
Experience the future of EMS manufacturing with our state-of-the-art technology platform and cutting-edge digital supply chain solutions. At MacroFab, we ensure that your electronics are produced faster, more efficiently, and with fewer logistic problems than ever before.
Take advantage of AI-enabled sourcing opportunities and employ expert teams who are connected through a user-friendly technology platform. Discover how streamlined electronics manufacturing can benefit your business by contacting us today.