Related Topics
The warehousing crunch has put a strain on electronics companies that rely on quick delivery of electronic components or PCBAs, especially from overseas.
Even though the CHIPS Act will funnel tens of billions of dollars into semiconductor factory construction, new domestic fabs won't solve every problem.
Despite the challenges posed by global supply chains, sales of new robots still grew slightly at 0.5%, with 384,000 units shipped globally in 2020.
Other Resources
November 9, 2021
Engineering and Supply Chain teams at companies developing hardware products can't seem to catch a break. From trade wars to pandemic lockdowns and now the Great Chip Shortage of the 2020s, it's harder than ever to source electronics components to get new electronics products to market while keeping your existing products in production.
As we settle into this new landscape, companies need the right tools and partners to help them address these new manufacturing challenges, which is why we are pleased to introduce the new Alternative Part Sourcing release. This release empowers companies with new tools to proactively manage risks when relying on parts that can go out of stock at a moment's notice with new capabilities like:
Easier Bill of Materials Management for Alternative Part Lists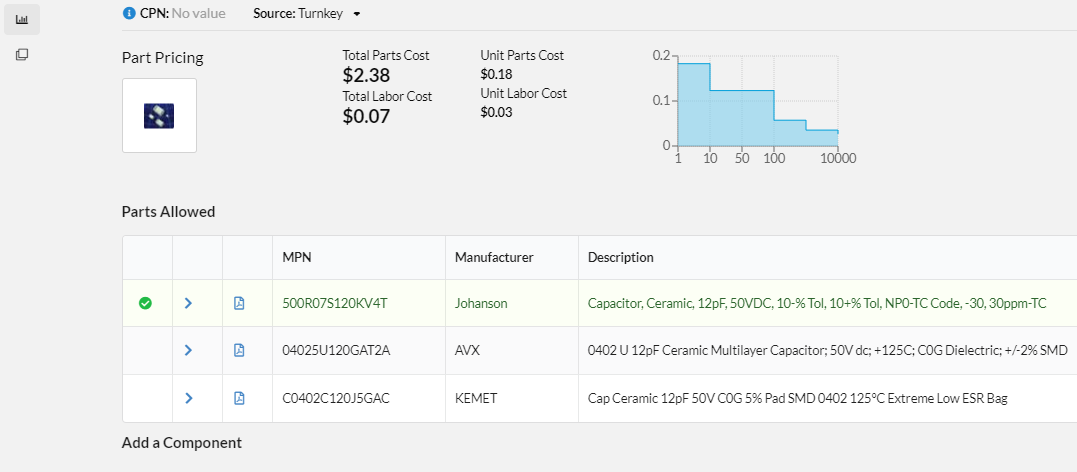 We've simplified how Bill of Materials with multiple alternative part lists are imported and managed. You can now import a spreadsheet with multiple alternative part lists and have them enriched with supply chain data as an approved list of allowed parts for your product at sourcing time.
As you work with your allowed part lists, you'll notice the user experience when working within the Bill of Materials tool has been dramatically simplified. Gone are the days of defining alternates by navigating between multiple sub-tabs, as we've consolidated many tools into a unified view while still delivering the same valuable supply chain insights you need to make strategic decisions.
Strategic Sourcing Tool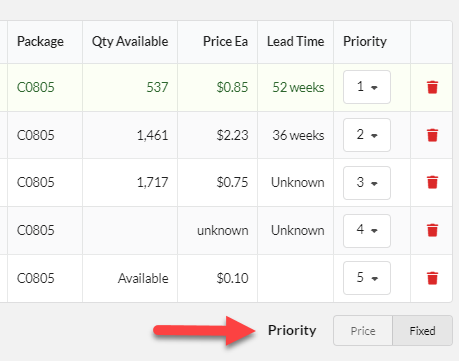 In the current volatile chip shortage environment, some parts have been known to go out of stock soon after an order is placed. Building a curated list of allowed parts before your order is placed is the most proactive step your company can take to manage supply chain risk.
With a well-defined allowed parts list, if a part goes out of stock after your order is placed, our strategic sourcing team will attempt to secure stock based on the supply chain strategies you have set using our new Strategic Sourcing tool.
The strategies that can be set on a per line-item basis include Price or Fixed. Price is a cost optimization strategy, and Fixed is a manually defined strategy. This way, we can help you proactively manage risk by not losing critical days getting your approvals if your preferred parts go out of stock.
Company-Wide Custom Alternative Part Lists

Building on our recent Team Accounts & Collaborative Tools release, which redefined how work gets done by teams at hardware product companies, we are now empowering your teams to manage alternative allowed part lists as a company asset.
We know your teams have worked hard developing a parts library and naming conventions for components so that you ensure quality during production, which is why you deserve a manufacturing partner that makes life easy when enforcing your company's standards.
With company-wide Custom Alternative Part Lists, you now have centralized management of alternative allowed part lists instead of a list defined for a single product's Bill of Materials. Access to the page is role-restricted, so only authorized teammates can make changes. Any new lists or edits will automatically be made available or cascade to all PCBs in your company's account, respectively. You simply reference the Custom Part Number (CPN) for the list in your PCB's Bill of Materials, so you only manage these lists from one place.
Faster Component Sourcing
We've bolstered our automated component sourcing to reduce the likelihood parts will go out of stock during manufacturing. Our automated purchasing algorithms now continuously execute throughout the day to make sure we can secure as many of your components as soon as our Engineering team reviews your order after payment.
While we always attempt to automate the purchasing of all parts, due to the volatility of the supply chain, we expect in most cases, up to 90% of your components can be automatically purchased, which substantially reduces your project risk. If any components cannot be automatically purchased, our strategic sourcing team will use your defined strategies in the Strategic Sourcing tool to secure your alternative components.
About MacroFab
MacroFab offers comprehensive manufacturing solutions, from your smallest prototyping orders to your largest production needs. Our factory network locations are strategically located across North America, ensuring that we have the flexibility to provide capacity when and where you need it most.
Experience the future of EMS manufacturing with our state-of-the-art technology platform and cutting-edge digital supply chain solutions. At MacroFab, we ensure that your electronics are produced faster, more efficiently, and with fewer logistic problems than ever before.
Take advantage of AI-enabled sourcing opportunities and employ expert teams who are connected through a user-friendly technology platform. Discover how streamlined electronics manufacturing can benefit your business by contacting us today.